Public schools across Florida celebrated freedom week by dressing up from September 25 through September 29. Freedom week focuses on educating students on the declaration of independence, the founders of America, the Bill of Rights, the amendments to the Constitution, and what it means to have good citizenship.
Freedom week enforced the government regulations stating that every student must learn the constitution in High School, however a study given by the University of Pennsylvania's Annenberg Public Policy Center found that 37 percent of people in America do not know any rights guaranteed to them by just the first amendment.
"This week made me realize the impact of our constitution and our change as a nation since we gained our independence," Sophomore Julissa Joseph said.
To start the week, students dressed in different striped and starred clothing prints before transitioning into hero day on Tuesday when students dressed in clothing that represented their hero. On Wednesday students dressed in their school T-shirts for school spirit day. Furthermore, on Thursday students dressed like their favorite decade for 'Throwback Thursday'. Finally after Decades Day on Thursday, the week came to an end with a classic red, white, and blue for 'Freedom Friday'.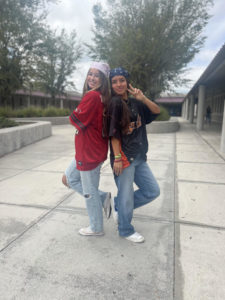 "Our outfits were inspired by our favorite movie Clueless… we wanted to dress up to show our school spirit and our appreciation of the country's development since then," Maria Jessurun said.
Juniors Olivia Navarro and Maria Jessurun represent their favorite characters of the past in oversized jerseys and baggy jeans for "Throwback Thursday". 
 "Freedom week is important because it reminds us of how grateful we should be to  live in a free country, and this great district that allows people to express themselves in so many ways," Navarro said.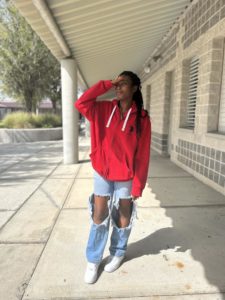 Junior Rene Osas Igbinobaposes in her red, white, and blue outfit for "Freedom Friday", showing off her appreciation for our constitution.
"This week taught me more about the Bill of Rights in the constitution … this is important to know in high school because our amendments and freedoms affect our day to day lives," Osas Igbinobaposes said. 
Freedom week will continue to be celebrated annually in Florida's public schools during the last week of September.