Lunch at the Ranch: Changes since Covid-19
There have been many adjustments to policies at Wiregrass Ranch and schools nationwide since re-opening this year, including major changes in the cafeteria.
On Aug 31, the USDA extended free meals to all children through Dec 31 to ensure that every child, no matter the circumstances, has access to nutritious food while society recovers from this global pandemic. This change also applies to online students, who can come to school to pick up a meal. There has been a significant increase in students choosing to get school lunch since the federal rules changed.
"I don't have to worry about my lunch account ending up in the negative," Junior Anthony Burgos said.
In addition to the recent news about free lunch, students have also been adjusting to new social distancing guidelines required in the cafeteria. Students may only sit with six or less people, depending on table size, and must keep masks on unless eating. Administration have been monitoring both indoor and outdoor eating locations to enforce these rules.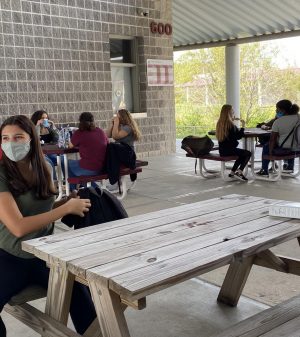 "The new policies require us to make sure that students are social distancing and wearing masks when not eating, especially in line and at the vending machine," Assistant principal Christy Rankin explained. "I am proud of all the students for following the new policies."
Another change to lunch at Wiregrass includes teachers no longer having a separate lunch line, allowing students more room to space out while they are obtaining their meals. Staff have been very cooperative in regards to this change.
"I do miss some of the conversations I was able have with my colleagues as we were waiting in line, but now I get to do that with students which is nice too," Rankin explained. "I understand that the times we are in now require this."