Lara Holthaus: What's it's like to be a foreign exchange student
As if being a senior in high school wasn't enough pressure, imagine being from a different country, in a place you barely know, surrounded by people you've never met, and going to a new school with a different system of teaching. 18 year-old, Lara Holthaus, an exchange student from Germany, experienced just that.
Having support from her friends and family, and inspired by her cousin who did an exchange year, Lara's dream came true on Aug. 5 when she came to the U.S. to attend school at Wiregrass Ranch for 10 months. Many assisted her in this process including athletic director of Wiregrass Ranch, David Wilson.
Wilson also also acts as an International Exchange Coordinator for the EF Exchange Year program. In this position, Wilson's role is to find host families for exchange students within the program and help support each family throughout the year.
"I wanted to help bring students to the United States so I can help show them all the wonderful things we have to offer," Wilson explained.
Wilson helped make accommodations for Holthaus and her host family, which consists of host parents, two host sisters who are 14 and 17-years-old, 4 cats and 1 dog. Holthaus had to adapt to a whole new environment, one without her family, in a new home with people she didn't know anything about.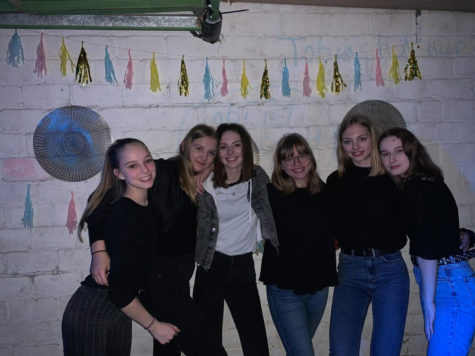 "In the beginning it was kind of scary to live with a host-family because I didn't really know them at first; they were almost completely strangers," Lara explained. "But they immediately started to treat me like a family member and I'm so glad I can call them my second family now."
Another major factor in exchange student success is dealing with the language barrier- luckily, in Germany, Lara began learning English in the 4th grade, so she had a good understanding of the language before coming to the U.S. Despite this, she still had some struggles.
"It was still hard to understand everyone in the beginning, but I got used to it pretty quickly," Lara said.
According to Lara, the U.S. is close to what is shown in the movies. One of the big differences though, between Germany and the U.S. is the school systems, the schools in the U.S being much larger.
"In the U.S., you have the same schedule everyday and there are different people in all your classes," Lara explained. "In Germany there are always the same people in your class (and they are in the same grade as you) and you have a different schedule for the whole week."
One of the biggest challenges Lara thought she might face in her stay here was homesickness, but it hasn't been a problem for her at all.
"Of course I miss my family and friends, but I never thought about leaving," Lara explained.
Lara made the most of her time in the U.S., experiencing many new places and traditions.
"My favorite experiences are Disney, (which I go to almost every second week of the month), the football games at the Ranch, our vacation to Tennessee, Grad-bash, holidays like Halloween, Thanksgiving, and Christmas, and of course many moments I had with my family and friends," Lara said.
Lara also made new friends while at the Ranch that only enhanced these experiences.
"I was always scared to make friends here because my English wasn't perfect and everything was so different," Lara said. "The first week was really tough and I was so overwhelmed by everything. However I met so many nice people here and found really good friends. I'm so happy with them."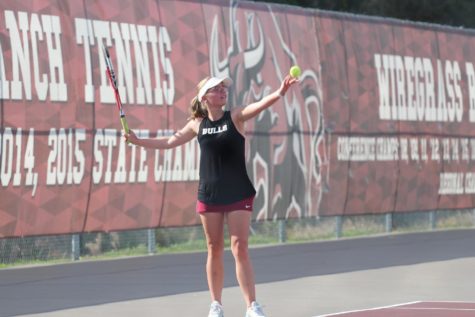 Being away from home has not stopped Lara from doing the things that she enjoys. Lara is part of Wiregrass Ranch's girls tennis team, as it is her favorite sport to play. She is the only one on the team that has been undefeated the entire season and she was district champion for her line.
Since being here, Lara has learned many things, that have made her experience worth it.
"My English definitely improved, I'm more confident now and more independent," Lara explained.
Lara returns to Germany sometime between May 31 and June 2, taking with her many memories from her time at the Ranch.
Leave a Comment
Your donation will support the student journalists of Wiregrass Ranch High School. Your contribution will allow us to purchase equipment and cover our annual website hosting costs.