The crazy work behind 'Crazy 8s'
Eight different shows, eight different genres, and one new teacher becomes a roaring success.
As the rustle and bustle of yet another successful thespian play ends here at Wiregrass Ranch, the student and staff reviews have been nothing but positive. This year's show, "Crazy 8's" has been one of the most chaotic yet, with weeks of rehearsing, blocking, staging, improv, and much more.
The play itself is made up of eight different 1-act plays written by the colleagues of Wiregrass Ranch High schools' drama teacher, Alexa Sheppard. This is Sheppard's first play she has directed since becoming the drama teacher here at Wiregrass, but she didn't take being new as an excuse not to be great. The cast for the play was unique, as Sheppard accepted a variety of actors: theater veterans, new actors in theater, and even some who had no experience with acting at all.
"Everyone is so talented. It [really] is unbelievable watching these students come alive with their characters," Sheppard explained. "One of my biggest worries was someone's going to get their heart broken… but we [had] the perfect amount of auditioners for each role so it was exhilarating."
After the cast list was posted, it was time to get to work. Being able to attend some of the rehearsals was very enlightening, as creating a play isn't as easy as it looks. The first rehearsal I attended with the actors was them recording their scenes for the ASL interpreters to memorize. This consisted of several different aspects of each scene, including proper diction, intonation, and volume. Even fake laughing must be recorded, as this was also practiced before their "off-book" rehearsing.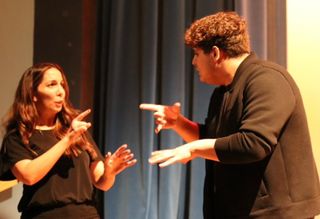 The off-book aspect of the rehearsal was an extremely interesting ordeal to watch and note because of the complexity behind it. The actors at that point had about two weeks to memorize lines, stage directions, and blocking for their scenes.
Attending those rehearsals were several of the theater staff, Sheppard, the student director, and assistant directors. The idea of having student directors was another fun twist by Sheppard, and senior Elijah Conley took on one of these roles.
"I will be helping all of these fantastic actors go through the play and guiding them on how I think the lines work with [the actors] own spin on it," Conley stated. "I have to make sure I know the scene, know what makes it funny, and teach it to them so it [eventually] can be executed on stage."
During the rehearsal of the actual scene, there are several rules an actor follows. Some of which include: not facing away from the audience and reacting when an actor isn't speaking, so the dialogue flows conversationally.
One could find it very overwhelming to remember the many acting rules that can bring a script to life; however, this seemed like the perfect challenge for new actor and senior Joshua Jarquin. In preparation for his audition and eventually, within the role of Young Pete, Jarquin took an interesting study technique.
"I really love to watch movies and tv shows so I would kind of pick up what I see on tv and think of it like a toolbox," Jarquin described. "There's certain characters where I like how they may act shy or confident and I put it in my little toolbox [to] make it into my own style."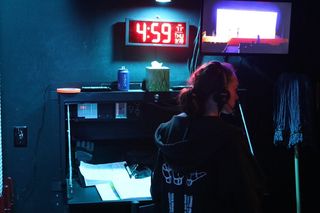 After hours and hours and days upon days of rehearsing, it eventually came time for the thespians to practice on stage at their dress rehearsal. Sitting in on their dress rehearsal was drastically different from sitting in on their regular rehearsals. First was the cue-to-cue which I eventually learned was stopping periodically while rehearsing a scene to check sound, lighting, etc… The theater students of Wiregrass were buzzing with excitement as their final staging was put together.
"I think the most exciting thing about the rehearsals leading to the show is seeing the script come to life and seeing how the different actors interpret and portray their lines," junior student director Leah Ifill explained. "The eight different plays give more acting opportunities to people and also add spice to the show as the audience will be seeing different genres and varieties of acting."
Crazy 8's was a triumphant success from the opening curtain to the final bows. There was romance, comedy, mystery, puns, action, and of course amazing acting. Experiencing the inner workings of Crazy 8's was truly an eye-opening experience into the world of theater.
View Comments(1)
Your donation will support the student journalists of Wiregrass Ranch High School. Your contribution will allow us to purchase equipment and cover our annual website hosting costs.
About the Contributors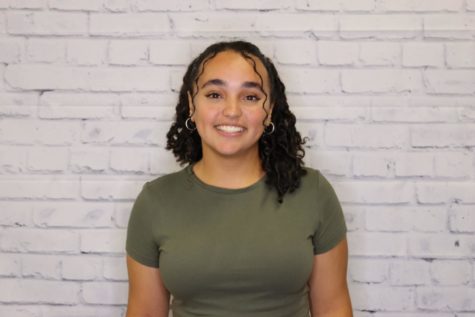 Emmaly Simmons, Student Life Editor
Emmaly is a junior at Wiregrass and this is her second year writing for The Stampede.  She did competitive cheer for 6 years, is a member of the  WRHS...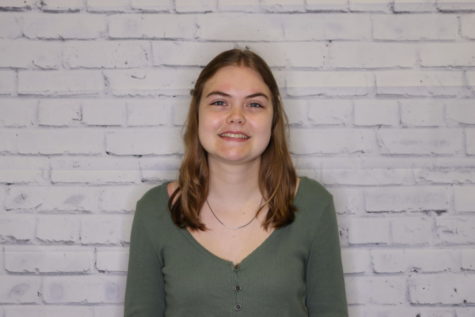 Megan Kelly, Photo Editor
Megan is a senior at Wiregrass Ranch, and this is her second year being the photography editor for The Stampede. She is the secretary of the National English...