A new generation of artistic talent part two: Tori Picarelli
Wiregrass senior Tori Picarelli, who uses the pronoun they/them, is one of the many students at Wiregrass Ranch High School who uses art to express themselves. Picarelli found a way to make money from their passion, by starting a crochet business through Instagram, where customers can purchase affordable and quality pre-made or commission pieces.
For many teenagers like Tori, art can be an outlet that allows them to grow, mature, change, and express themselves creatively.
"Crochet gave me a space to create art that reflected how I wanted to express myself," Picarelli expressed. "I've been involved in the arts since my childhood, and I've always appreciated the space it's given me to reveal the inner workings of my brain."
Picarelli started crocheting only six months ago after joining the crochet club here at Wiregrass, run by their friend Olivia Robertson. They started crocheting the first week of November, and although new to the crochet world, Picarelli began their business just weeks after learning the skill. When discussing why they started their business, Picarelli stated, "[it] is something that makes me happy, and I wanted to share that art with other people."
Picarelli struggled at the beginning, learning new techniques for crocheting through YouTube tutorials which can be challenging to follow. Picarelli found, "learning to crochet with experienced friends made the learning process a lot easier."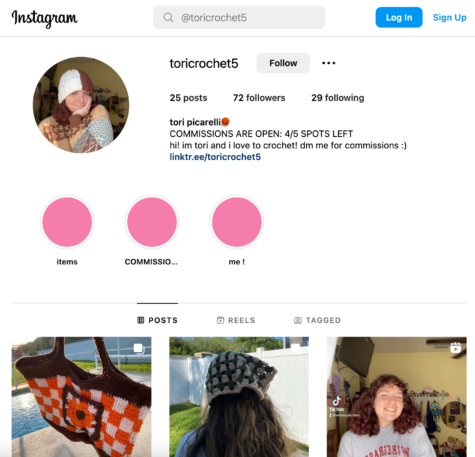 Picarelli's business is run through Instagram (@toricrochet5) where handmade pieces from a set catalog or commissions are sold. Picarelli's inexpensive products vary in price, with their most popular product, cat beanies, being twenty dollars. When contacted via their Instagram account, Picarelli works with the customer to choose a design and color specific to them.
"I chose Instagram because I'm more focused on displaying my art portfolio than just business transactions," Picarelli conveyed. "As a fiber artist, it's really important to show a variety of examples of what your customers can purchase from you so that they feel more comfortable with your items."
Wiregrass junior and customer of Picarelli, Raihanah Humayun, praised Picarelli's work on the purple cat beanie she purchased.
"Tori's business is unique because they let you choose your color and yarn," Humayun stated. "All the designs are handmade, and Tori enjoys making them, which makes it special."
Humayun loved the way her beanie came out, stating she would order from Picarelli again because of the good quality and, "so I can have more colors."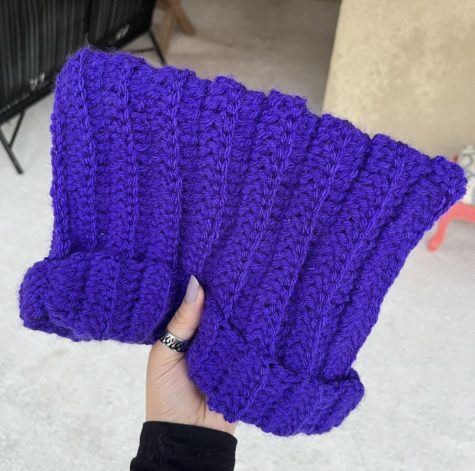 Picarelli feels there is a multitude of benefits to crochet clothing. Crocheting can be cost-friendly leading to environmental conservation, handmade pieces sold online can help combat fast fashion, and custom clothing is a great way to express style, or show off a skill.
"When I wear my hats out in public, a lot of people ask me if I made it and what the process is like," Picarelli explained. "It's really interesting to see how people react to fiber arts because it's a lot simpler than people have been led to believe."
Tori believes art should be a more accessible form of expression and uses it to express themselves freely.
"Art is one of the best ways to express your true self because it's an outlet that doesn't need to be literal," Picarelli vocalizes. "Art can hold so many different meanings and ideas and it's a unique way for each and every person to express a different feeling."
Picarelli's Instagram is currently open, taking orders and custom commissions for crocheted beanies, bags, and various other items. You can support Tori's business here.
View Comments (1)
Your donation will support the student journalists of Wiregrass Ranch High School. Your contribution will allow us to purchase equipment and cover our annual website hosting costs.
About the Contributor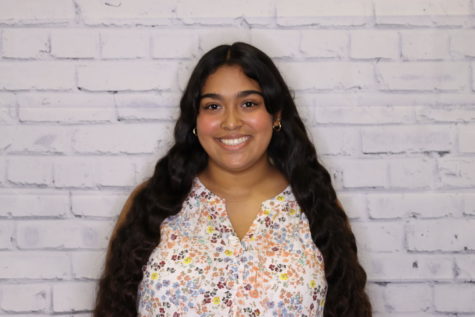 Alyssa Cortes, Editor-in-Chief
Alyssa is a senior at Wiregrass Ranch and this is her second year writing for The Stampede. She is the co-president/founder of Activism in Film Club,...