Social media sites have become a huge aspect of many teens' lives, and has even more of an impact when it comes to the connections they're forging with peers. Although online contact can help initiate and develop relationships, an over-reliance on social media can have the opposite effect.
Researchers from the University of Washington concluded that eighty percent of high school students are social media users. Thirty-two percent reported being online for 5 to 6 hours a day, seventeen percent said they were online for 7 to 8 hours and thirteen percent admitted to being online 9 or more hours a day.
The prevalence of social media and screen time in teens is bound to affect different aspects of their lives.
"Social media has allowed me to maintain relationships with friends and family that live far away in a fun and interesting way," Junior Carmen Cano said.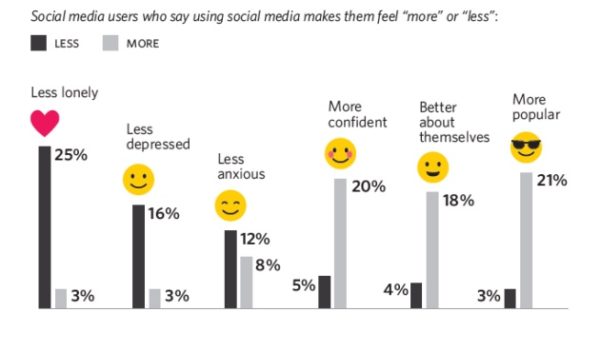 Social media has allowed teens to be more aware and engaged in the lives of those they care about, particularly friendships and relationships. It makes communication easy and instantaneous and helps teens feel more connected to one another. Nearly one quarter of adolescents, ages thirteen to fifteen, met their romantic partner online, while fifty-five percent have flirted with a potential partner on social media.
"I think social media creates an opportunity to adopt way more relationships, but these relationships are often very shallow and short term," Junior Mason Caruso said.
Based of research done by Pew Research Center, it can be concluded that teens who spend excessive time on social media often times have difficulty forming real-life relationships face-to-face. They would rather talk to people online than in person, in turn causing many teens to become more isolated and withdrawn. Peer influences are also amplified on social media, which can decrease self-esteem and increase social anxiety. This often discourages teens from being social and engaging with others.
Meeting your partner online can also be unreliable and unpredictable, as anyone could be behind the screen. Relationships on social media are portrayed as perfect and  unproblematic, when in reality, one might have to face problems with their partner and overcome them to be able to maintain a healthy relationship. Therefore, teens tend to get false ideas of what to expect in a relationship, and then aren't satisfied and are constantly comparing their relationships to others on social media.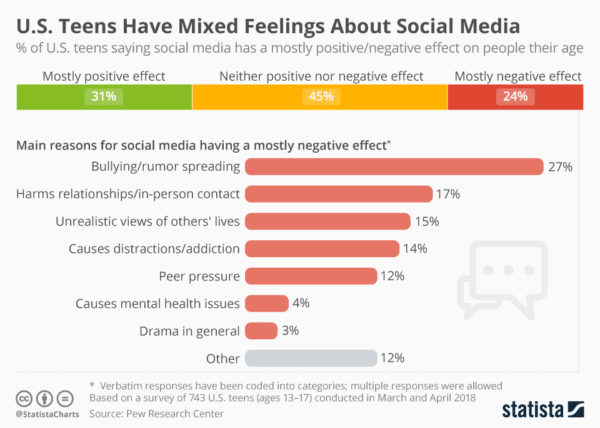 Overall, social media has both positive and negative impacts on teens in today's society. While social media can help teens connect with others, it also has been proven to harm deep relationships, cause insecurity, and set unrealistic standards. By putting down their phones and engaging with friends, family, and partners in a real, and meaningful way, teens will see improvement in their social relationships.
"The best way for teens to improve relationships is by socializing without a screen in front of their face," Caruso said. "They need to spend more time together physically and not just in an online presence."