The beauty industry has and always will be one of the most complex worlds out there. Makeup has become one of the biggest ways to express a style or a trend, or in the case of an Egyptian woman from 6000 BCE, a way to appeal to the Gods. The concept of makeup has dated back further than one might think, but has made a huge stamp on the world today.
The timeline began in 6000 BCE with the Egyptians where makeup was used for both sexes in order to appeal to their Gods and show wealth status. The poor were more inclined to apply with sticks from makeup in clay pots whereas the rich put on makeup with bejeweled applicators and boxes made of ivory.
Khol would be used similarly to black eyeshadow and was used to line the eyes. This was most often paired with blue or green eyeshadow made from an ore called galena. As for lips, it was a classic bold red lip still known today and was made from mixing fat and red ochre.Makeup was also source of power for the Egyptians, who strongly believed that regardless of gender, makeup would protect them from the "Evil Eye". Khol, one of their most popular" products" was seen as a protectant from various diseases and damage from the sun. Who needs sunblock, right?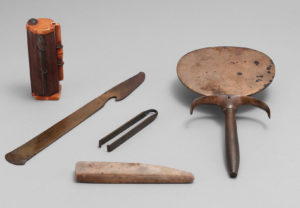 In 4000 BCE, the people of Ancient Greece and Rome turned towards the "natural side," and started using light powders and colors. Similarly to the makeup to today, most cheek and lip products back then were made from lead-based eyed and even mercury. Unfortunately, Mercury was not known to be toxic yet, and repeatedly caused health problems.
For the face, one was expected to have perfectly flawless skin due to the infamous skin care routine of the olive oil and honey line. If this wasn't the case however, light powder foundations made their way to the market in order to get that dewy effect. Light touches of color on the cheeks and lips were made from fruits, as the natural pigments were exactly what the Greeks and Romans were looking for. The black liner trend made an impression, so they added olive oil and charcoal together for a darker, bolder brow and eye look.
Makeup also became more popular eastward, in Ancient China, from 3000 BCE to 600 CE. Specifically, royalty were some of the best makeup because of their wealth status. Light colored foundations and nail polish distinguished the rich from the poor. The rich would paint their nails using a beautiful silver or gold, while the lower ranking citizens' nails were painted black or red. The poor however were completely forbidden to wear nail polish in the first place, as they could barely afford it anyway.
As for trends, 600 CE was a busy time. Ancient China was one of the first to have rapid changing beauty trends, especially in the eyebrow department. A variety of shapes and colors of the brows were made of pigments created from the boiling of plants, animal fats, and spices, as were most products at the time. Strong red powder on the cheeks for color and heart shaped lips from vermillion were amongst some of the most popular trends of the century.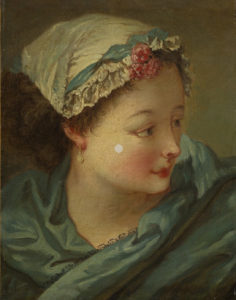 Another vast difference in makeup trends are 1500 CE to the mid 1800s. The 1500s started with Christian writers starting to create an association between makeup and deception, and just how powerful of s tool makeup could be. Women were very big on skin care using homemade recipes to obtain their "flawless skin."  Cerise, a mixture of vinegar and white lead, was applied for the whitening of the skin. Other trends included plucking the eyebrows to give the illusion of a big forehead, and mixing egg whites, ochres, and mercury for colored cheeks and lips.
Throughout the thousands of years, Mercury has been a main ingredient in the most influential products. Unfortunately, the makeup gurus of the time didn't know how dangerous it was to use Mercury on their face, and it would often cause drops in population due to so many deaths. There was even a point of time during the 1500s when life expectancy was brought down 29% due to poisoning from makeup.
With the consequences of makeup starting to make its way to the surface, its popularity was slowly decreasing. A factor that only supported this makeup downfall was Queen Victoria I of Great Britain. The queen found makeup to be crude, and unladylike, and with her influence, the people started to agree. From then on, anyone who was seen wearing makeup was considered an abomination and a harlot. This was also the start of makeup heading down one side of the gender pole, as the men of the time period didn't want to be seen as unmanly.
Thus, the pinching of the cheeks trend was born. Ladies would pinch their cheeks to give a natural blush, as well as biting their lips to give off a roses lip tint. Pastes from apothecaries were also used for those who suffered with red acne, so the complexion was seen as clear and pretty. Ultimately, if people could tell you were wearing makeup, one was doing it wrong and there would be social consequences. 
As the beauty world entered the 1900s, makeup made its comeback in Hollywood. Hollywood movie stars in the 1920s specifically started encouraging how fun makeup could be again, including men's makeup. During the 1930s, the "guy liner" trend was born as more and more music artists in the punk rock genre wanted to make a statement with a bold dark eye look, that can be traced back to the Egyptians. Instead of a punk rock look, they used Khol as a protectant from various diseases and damage from the sun. Who needs sunblock, right? The industry once again began selling all over the world, and eventually led into the decades trends we know today. From the bold red lipstick of the fifties, to the thin eyebrows of the 90s, makeup was officially in again.
Junior Ryan Bonner applies her shiny lip gloss, showing the trends of today. (Haley Gatchell)
The makeup biz has come a long way, but today it's all about enhancing ones natural features. With an expanding amount of skincare being made, face makeup is often lightweight, with a sheer coverage to really show the textures of the natural face. Trends such as soap brows, fake freckles, and dewy, shiny lips have taken over the beauty world.
An industry like the makeup industry is ever-changing and ever-growing. Not only are makeup brands releasing more products, but now the makeup world expands to all people regardless of gender and continues to break the stereotypical norms of the world. From 6000 BCE to today, many trends have come and gone, but one thing that remained constant was that beauty is an art form, and a way to truly express oneself in a world of such diversity.
Photo Creds:
Arnold, Dorothea 2005. "Toilet Set." In Hatshepsut: From Queen to Pharaoh, edited by Catharine H. Roehrig. New York: The Metropolitan Museum of Art, pp. 220–21, no. 145b–e.
"Head of A Young Woman." 2021, Heritage Images.