Wiregrass Cross Country, another successful run
Wiregrass Ranch Cross Country placed well at the Weeki Wachee Invitational.
The Bulls had a successful meet this weekend at the Weeki Wachee Invitational, as the Girls varsity team placed third out of 18 teams, and the boys varsity placed sixth out of 22 teams. Key contributor to the girls team, Junior, Breanna Preiser, ran her best race last weekend. Preiser beat her personal record by 19 seconds, running a 21.14 and placing seventh for the Bulls.
"Beating my PR felt unreal; going into the race I wasn't in the mind set to PR, I just wanted to have a good run," Preiser explained. "During the race I kept telling myself, I need to keep my pace if I want to place top 10; when I got closer to clock I realized I was on track to have my fastest race yet. It felt good because I haven't broke my PR since freshman year."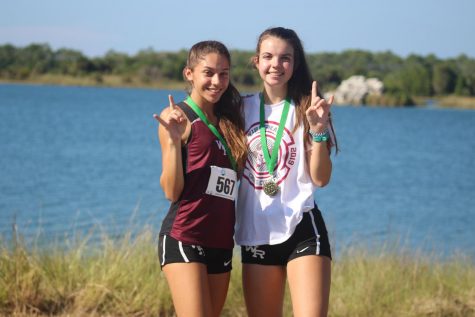 Girls head coach, John Ackerman, was pleased with the team's performance.
"We were seeded third place and that was exactly what the results were despite missing two of our varsity runners," Ackerman stated.
Junior Sebastian Hernandez placed second out of 161 runners for the boys team. Before the race, Hernandez was confident he would do well.
"The last stretch of the race I remembered thinking that I need to push myself if I wanted to hold my place, and thats what I did," Hernandez said.
The junior varsity boys and girls team also had a successful meet with the girls finishing second out of six teams and the boys finishing first out of ten teams.
The main contributors to the girls team were Senior Urmi Thorat (4th place), Sophomore Elyse Alagal (8th place), and Senior Isabelle Geiger (12th place).
Some key runners for the boys team were Senior Ethan Cedre (5th place), Sophomore Grant Shurley (8th place), and Freshman Chase Kaiser (14th place).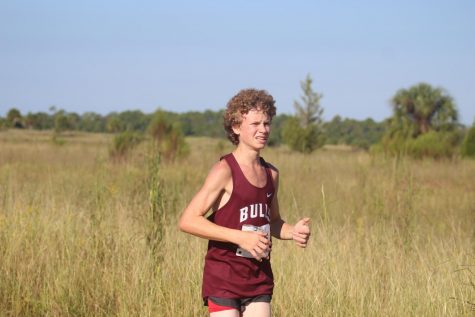 The Weeki Wachee course was a scenic 11-acre course of lime rock and dirt, winding around lakes and woods. Many runners favored this course saying it didn't feel as long.
"From where we started, knowing we had to run around the lake seemed like a big deal, but it went by it went by pretty fast," Junior Sebastian Hernandez said.
As the season moves forward, the team is focused on continuing to work hard and reaching their goals.
"I want to beat my PR (personal record), try to get to regionals, and get stronger for next season," Junior Mya Hill said.
For all comments, please provide your first and last name, separated by a space (ex. John Doe). You must also include a valid e-mail address. Comments not submitted with this format will not be approved. All submitted comments are subject to approval by a student editor. Comments are expected to adhere to our standards and to be respectful and constructive. As such, we do not permit the use of profanity, foul language, personal attacks. The Stampede and its editors reserve the right to reject a comment for any reason. Comments do not necessarily reflect the view of The Stampede.