Kendrick Lamar Tampa concert impresses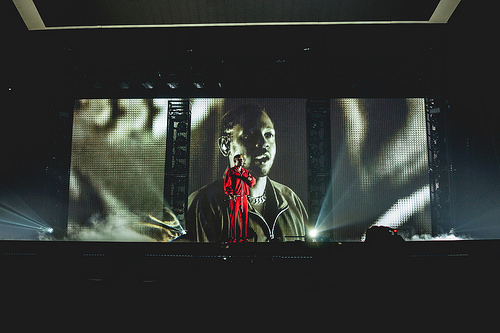 Kendrick Lamar performed in Tampa, Florida for his current tour featuring YG and D.R.A.M on Friday, September 1st. He held the concert in Amalie Arena and sold over 13,000 tickets out of a possible 20,500.
"It was so fun! It was totally worth spending all that money to get good seats," Wiregrass freshman Marissa Morton said. "Although it was just him on stage the whole time, it was super entertaining."
The Compton, California born rapper seems to never disappoint as he entered the stage with a high flow of energy. He opened with his song DNA while swinging a Katana at his alter-ego Kung Fu Kenny. He kept the audience energized and on their feet the whole night with songs from his albums To Pimp A Butterfly, Good Kid, M.A.A.D City, and his titled tour album. He closed out his regular set with the song HUMBLE, and followed it with the last song of the night, an encore, GOD.
"M.A.A.D. City was my favorite out of all the songs he performed," Morton said. "The beat of the songs definitely got me hype," Morton continued.
Fans in the audience felt a definite connection to him and his energy filled the concert.
"He was so alive and you can tell he loves his job," Morton said. "The others do it for the fame, but he truly wants to connect to people with his music and worked very hard to get where he is."
Kendrick's concert lived up to everyone's expectations and it was everything they thought it would be.
Out of everyone that performed at the Kendrick Lamar concert people say Kendrick Lamar was the best.
Since the concert, Lamar has earned the praises of many. Not just from countless fans, but from multiple critics and journalists.
Creative Loafing said, "In Tampa, Kendrick Lamar proves that artistic merit, never selling out just might make him G.O.A.T." TBO.com confirms that, "Kendrick Lamar brings Kung Fu Fury to explosive concert at Tampa's Amalie Arena." And critic Jay Cridlin expressed in a quote, "Kendrick Lamar and  'Gorillaz's 'Humanz' cement their status as visionaries."
So according to countless fans and critics, it was indeed a night to remember.
Leave a Comment
Your donation will support the student journalists of Wiregrass Ranch High School. Your contribution will allow us to purchase equipment and cover our annual website hosting costs.