Mid-Season Awards: NFL Edition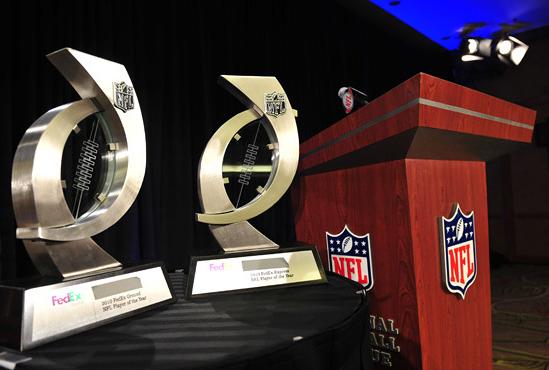 Week 9 of the 2018-19 season just ended, which means that it is time to give out my NFL Mid-Season Awards. This season has been filled with surprising outbreaks and incredible performances. Let's reflect on who I believe deserves awards so far in the season.
COACH OF THE YEAR: Andy Reid, Kansas City Chiefs 
This year, the Kansas City Chiefs have gone on an insane 8-1 start. While some may think this is the usual incredible start to a Chiefs season which is destined to fail, this year is different. Andy Reid has taken a team full of talent and turned them into a perfect system with the most impressive part being that the team is led by a first year starter in Quarterback Patrick Mahomes. Reid has given Mahomes all the pieces he needed to succeed and it has worked out tremendously.
OFFENSIVE ROOKIE OF THE YEAR: Saquon Barkley, New York Giants
Saquon Barkley has been nothing short of absolutely sensational.  The Rookie that was known as a "can't miss" in last year's draft has lived up to the hype so far with some putting him as contender for the title of top Running Back in the league. Barkley has racked up 519 rushing yards, 497 receiving yards and 7 touchdowns in his rookie campaign and is doing it with a banged up Offensive Line. Barkley is by far the most impactful rookie this season.
DEFENSIVE ROOKIE OF THE YEAR: Derwin James, Los Angeles Chargers 
The Los Angeles Chargers defense has given up the 8th least amount of points this year with their best player on that side of the ball, Joey Bosa, out for the season so far. This productivity has come from their dominant secondary and new addition, Derwin James. The safety has 55 combined tackles, 3.5 sacks and an interception.
MOST SURPRISING TEAM: Chicago Bears
The Chicago Bears started their season with the biggest trade of this season for DE Khalil Mack. Mack has been excellent this season and with Mack leading this defense, the team is now 5-3 and on top of the NFC North.
MOST DISAPPOINTING TEAM: Jacksonville Jaguars
Last year's AFC runner-up have been nothing more than the joke of the NFL so far. The Jaguars were projected to take over the AFC this year by making the leap everyone was waiting for but they have started off with a disappointing 3-5 and do not look like they are figuring it out. The Jaguars have a beat up running game and an incompetent Quarterback in Blake Bortles who they have not shown any sign of changing. Until a Quarterback change is made, it looks like they will continue to be the bottom of the AFC South.
OFFENSIVE PLAYER OF THE YEAR: Patrick Mahomes, Kansas City Chiefs 
Patrick Mahomes is a future superstar! He has been doing things that are unheard of for a first year player. Mahomes is second in yards per game averaging 322 yards, and first in passing yards at 2901 yards. Mahomes has weapons all over the field like Tyreek Hill, Sammy Watkins, Kareem Hunt and Travis Kelce and has taken full advantage of his situation.
DEFENSIVE PLAYER OF THE YEAR: Khalil Mack, Chicago Bears
Khalil Mack, after being traded to the Chicago Bears at the beginning of the season has been playing out of this world. Mack started off the year with 4 forced fumbles in the first 4 games. He also has an pick-six and five sacks. Mack is leading this defense right now that has given up the fewest points. Mack's defensive presence has put him to become a potential MVP candidate.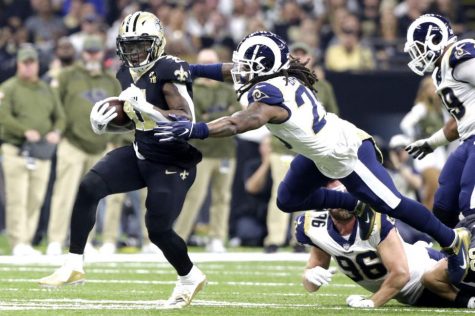 PREDICTED SUPER BOWL WINNER: New Orleans Saints
The New Orleans Saints have been cruising through teams this season. Last week there was a powerhouse matchup of debatably the two best teams in the league with the undefeated Los Angeles Rams versus the New Orleans Saints where the Saints came out on top 45-35. The Saints have a top 2 offense in the league with a competent, young defense.
MOST VALUABLE PLAYER: Drew Brees, New Orleans Saints
Drew Brees is playing the best season of his Hall of Fame career. He currently has a 120.6 Quarterback rating, which would be good for the third best in history. Brees has never won the MVP award before despite having multiple 5,000 passing yard seasons and a Super Bowl win. Brees is currently throwing 76.3% completion percentage which would break his record from last year of 72% and has 18 touchdowns with only one interception on the season.
Leave a Comment
Your donation will support the student journalists of Wiregrass Ranch High School. Your contribution will allow us to purchase equipment and cover our annual website hosting costs.
About the Contributor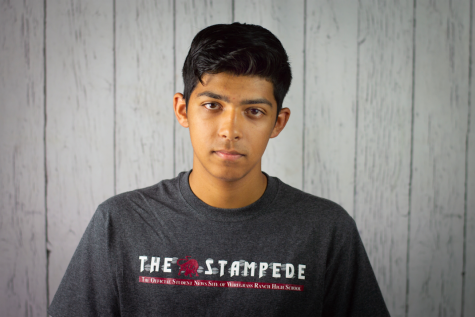 Christian Varghese, Writer
Christian Varghese is a senior at Wiregrass Ranch High School this year. This is his first year writing for The Stampede and is interested in Sports Journalism...