An exciting NBA off-season leads to the 2018-2019 NBA season
An exciting offseaon that included many big name moves leads into the 2018-2019 NBA regular season.
The long awaited 2018-2019 NBA season is upon us. The off-season consisted of many household names moving, impacting the balance of power in many NBA teams this season.
One major move that occurred this off-season that is sure to impact the league in every way possible was LeBron James' decision to leave his hometown team, the Cleveland Cavaliers, to join the Los Angeles Lakers, signing a four-year $154 million contract. The move was predicted by many sports analysts, such as Adrian Wojnarowski, a widely known NBA information source. There were several other teams interested in James due to the fact that he is regarded as the "greatest player in the world" when it comes to basketball, as well as the fact that he has led his team to the NBA Finals for the past eight seasons. Hopes are high from Lakers fans, who believe that James will help them to win a title in the coming years.
"Today is a great day for the Lakers organization and Lakers fans all over the world to welcome LeBron James, a three-time NBA Champion and four-time NBA MVP," said Lakers President of Basketball Operations Earvin "Magic" Johnson per a Laker's press release. "The Lakers players are excited to have a teammate who has been to nine NBA Finals. It's a huge step closer to returning the Lakers to the playoffs and to the NBA Finals."
The Kawhi Leonard-Spurs saga came to a terminus when the San Antonio Spurs and the Toronto Raptors finalized a deal that shipped out Kawhi Leonard along with Danny Green, in exchange for DeMar DeRozan, Jakob Poeltl, and a protected 2019 first-round pick. This was an unexpected move to many, especially All-Star DeMar DeRozan who was involved in the trade.
"Be told one thing & the outcome another. Can't trust em. Ain't no loyalty in this game. Sell you out quick for a little bit of nothing… Soon you'll understand… Don't disturb…" DeRozan expressed in an Instagram post.
This off-season was also a brief reminder of who dominates in the league. The Golden State Warriors, who had four All-Stars on their roster last season and won the NBA Finals, added another All-Star when they signed DeMarcus "Boogie" Cousins to a one-year $5.3 million contract. Cousins is coming off a season-ending Achilles injury, and will not return at the beginning of the season as he must go through rehab. An Achilles rupture in the NBA is often considered to be career altering, but the Warriors are willing to be patient and see what their new All-Star center will bring to the table.
\Golden State Warriors new addition DeMarcus "Boogie" Cousins (right) sits courtside with two-time Finals MVP Kevin Durant during a preseason game."Tough enough for anybody to come back from a nine, ten-month injury, but especially a big guy, who carries a lot of size, a lot of weight," said Warriors head coach Steve Kerr.
Another big move made this off-season was the Houston Rockets signing All-Star small-forward Carmelo Anthony. Anthony was traded from the New York Knicks to the Oklahoma City Thunder during the 2017-2018 season; he joined a team that fans considered a new "super-team," but Anthony disappointed, averaging career lows in scoring and refusing to come off the bench to help the team win. Many believe that this is a "make-or-break" season for Anthony, as he showed decline last year. On the contrary, Anthony's new teammates believe he is a great fit for the team.
"Everybody in the world knows what Carmelo brings, how gifted and talented he is. He still has a lot more to go. If he comes to the Rockets, we'll get the best out of him," Rockets star James Harden said prior to the Carmelo Anthony signing per espn.com.
The 2018-2019 NBA season will be nothing short of exciting as the dynamic of many teams has become improved, thus created a faster pace to each game. The regular season begins Tuesday, October 16, with the Philadelphia 76ers playing the Boston Celtics and the Oklahoma City Thunder playing the Golden State Warriors on a competitive opening night, as these teams have established a rivalry in the past years.
Leave a Comment
Your donation will support the student journalists of Wiregrass Ranch High School. Your contribution will allow us to purchase equipment and cover our annual website hosting costs.
About the Contributor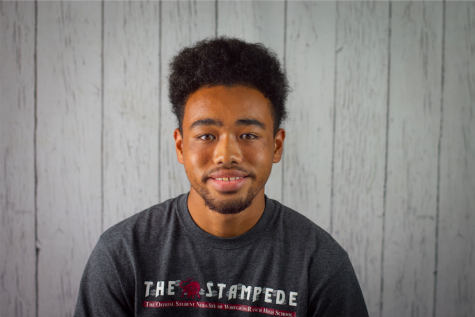 Damon Walden, Writer
Damon Walden is a senior at Wiregrass Ranch High School. This is his first year writing for The Stampede. He enjoys fishing and playing basketball during...