Frank Ocean's "Blonde" Review
August 20th, 2016 is a date Frank Ocean fans will remember fondly years from now as the release date for Frank Ocean's Apple Music exclusive album "Blonde".
Beginning with "Nikes," an eccentric track that makes a pivotal statement early on: this is not "Channel Orange" (Ocean's first album). From the high pitched vocals, to the scrambled lyrics, to the unconventional beat, this is definitely not an album as easily accessible as the previous.
"Nikes" transitions into "Ivy;" a song about growing up and looking back at who you once were. Lyrics such as "we'll never be those kids again," really taps into the nostalgic feeling that Ocean has expressed so well before in previous tapes. The song ends with a jarring high note from Ocean, fused with auto-tune.
"Pink+White" is the next song on the LP, and wow. The instrumental is produced by Pharrell, who also produced "Sweet Life" off of Channel Orange, and it's absolutely majestic. Frank's voice floats all over this beat pleasantly, as he croons about a friend from his childhood passing away. He continues to delve deeper into his past like he did in Ivy, keeping a constant theme throughout the album.
"Be Yourself" is a voicemail from Ocean's mother, which serves as an interlude. In the voicemail, Ocean's mother is warning him of the dangers of life away from home.
"Solo" details Ocean feeling alone without a partner as he's "rolling solo." The term 'solo' is used as a double entendre for both his solitary state and his emotional state of feeling, "so low." The hook for this song is brilliant, although it may take a few listens to understand it.
The next track, "Skyline To," is a rambling beauty of a track as Ocean rattles off the thoughts on his mind. The instrumental to "Skyline To" starts off minimalistic and bare as a guitar plays in the background, then turns more spacious later on in the song.
Speaking of minimalism, "Self-Control" starts off almost exactly like "Skyline To" does. However, with each verse and chorus, the tone evolves as Ocean sings of rejection by a person he wanted to be with. The climax of the song is Ocean chanting the same lyrics as if it's a mantra as the instrumental starts to break down into something more.
"Good Guy" is another interlude where Ocean details a "late night out" with a guy he met through a mutual friend.
"Nights" is separated into two parts, similar to "Pyramids" from "Channel Orange." "Nights" details the events of Ocean's night as he raps semi-aggressively over the first beat, which sounds almost like a hip-hop instrumental. The second half, however, sounds a lot more like an R&B song in the vein of Drake.
There are many contributors listed for this album, from Kendrick Lamar to David Bowie to even the Beatles. But none of them sounded as prominent as the elusive Andre 3000 on the track "Solo (Reprise)." And shine he did, spitting rapid lyrics with an intensity not seen from him in a decade.
Some of his lyrics were the subject of a lot of scrutiny: "After 20 years in, I'm so naive, I was under the impression, that everyone wrote they own verses, It's comin' back different and yeah that [stuff] hurts me." These lines were speculated to be aimed at Drake, who's recently been accused of using ghostwriters; however, it has been confirmed by those close to 3000 that these lines were aimed at nobody in particular.
"White Ferrari" is a highlight of this LP. It's about a heartbreak Ocean experienced in the past. The vocals on this track really shined through as Ocean poured his heart out throughout the track.
"Seigfried" is another break up song, and the production on this track stands out. However, it's a track that, like "Pretty Sweet," is great in its own right, but isn't as unique as other songs on the album.
"Godspeed" is a song with religious tones and sounds like gospel music. Ocean and Kim Burrell both elevate this track to beautiful heights.
The last track on this album, "Futura Free," is another rambling song where Ocean pitches his voice up as he thanks those that helped him create the album, brags to his mother, and questions his own mortality, all in the same breath. The song stops abruptly, and, after a long interlude of silence, an interview between Ocean's younger brother is heard before the question, "how far is a light year?" is posed twice before the album finally concludes.
Is "Blonde" better than "Channel Orange?" It's very debatable. This is not an album you listen to once; this is an album that needs multiple listens for it to be appreciated. As for my personal opinion, all I can say is: Good job, Frank Ocean. Good job.
Leave a Comment
Your donation will support the student journalists of Wiregrass Ranch High School. Your contribution will allow us to purchase equipment and cover our annual website hosting costs.
About the Contributor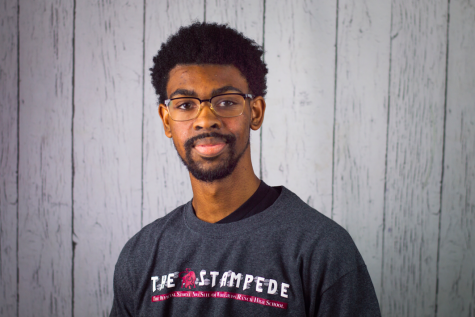 Stephen White II, Entertainment Editor
Stephen White II is a senior at Wiregrass Ranch High School. This is his second year writing for The Stampede. He likes to listen to music as well as write...