Homecoming Spirit Week encouraging school spirit
The students of Wiregrass go all out for the 2022 homecoming spirit week
School spirit weeks give students the opportunity to dress up and express themselves while also supporting their school. They give students an easy way to get closer to their fellow students and feel more connected to their school.
Wiregrass Ranch hosted their homecoming spirit week the first week in October. The spirit week themes created by Student Council were: Surfers vs. Bikers on Monday, Dynamic Duo on Tuesday, Class Color Day on Wednesday, Pajama Day on Thursday, and Maroon-Out for Friday.
On Monday, students had the choice to dress up as either a surfer or a biker. Throughout the day the school was split into two teams, similar to the classic Disney movie: Teen Beach Movie. One filled with flower leis and Hawaiian shirts, and the other with leather jackets and bandanas. A big fan of the bikers' side of the day was Wiregrass teacher Kimberly Krook.
"I was so happy to finally get to dress up as a biker," Krook said. "For some reason I had a fake tattoo sleeve at my house that needed to get out."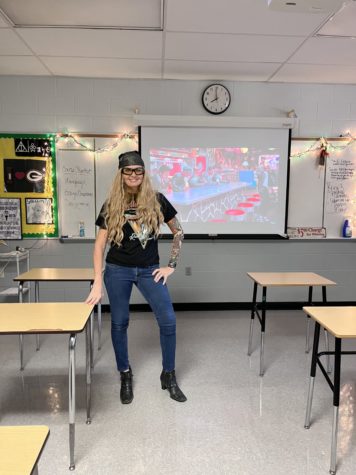 Tuesday became a twos-day with the next spirit day: dynamic duos. Students got to choose a partner to create an iconic duo and got to show their creativity. Salt and pepper, Mario and Luigi, and even Lilo and Stitch were just a few of the innovative duos Wiregrass students came up with. Senior Mia Holloway said that Tuesday was by far her favorite day.
"I looked at what I owned and then went shopping for the art supplies I needed to make the duo day shirts," Holloway explained. "I really liked the duo day because I got to dress up with a friend and got to wear the shirt I painted."
Day three was class color day, where the grade levels dressed as follows: white for Freshmen, [urple for Sophomores, blue for Juniors, and pink for Seniors. Students went all out, showing up in tutus, face paint, and even cowboy hats. This day also got teachers involved, supporting their favorite grade levels.
This was also the evening of the Powderpuff game, where Seniors were victorious over the Juniors.
Day four was a traditional day for homecoming week, but always a favorite: pajama day. Throughout the entirety of the school were people in their comfiest clothes, fuzzy socks, and even sleeping masks. Some students even went as far as to bring a pillow and blanket to show their dedication to the spirit day. PJ day was definitely a fan favorite, especially for freshman Kylee Chew.
"My favorite day to dress up [for] was pj day," Chew explained. "It was super comfy, and I didn't even have to change in the morning for school."
Pajama day may have been a sleepy one for the Ranch, but the Friday before the big game was a big wake up call. With the pep rally later in the school day, students were decked out in the days spirit theme, maroon-out. With a sea of maroon to represent their school, students and teachers alike dressed up in whatever maroon they could find.
Spirit week in general is a great way for the students of Wiregrass to show their school spirit and get hyped for the big game. When asked how important it is for kids and staff to dress up, Krook was very inspirational.
"I always tell kids that life is more fun when you participate in it [spirit week]," Krook explained. " I truly believe that, so I try to engage in the fun. Plus, it's always a nice break from the norm."
This year's spirit week was a roaring success and continues to bring the school together as a whole. Check out the gallery below to see more photos from the Wiregrass Homecoming Week spirit week.
Leave a Comment
Your donation will support the student journalists of Wiregrass Ranch High School. Your contribution will allow us to purchase equipment and cover our annual website hosting costs.