Men's mental health: Kayne West
If you've been on the internet recently, you have probably seen twenty-two-time Grammy award winner, Kanye West, circulating the headlines. It's a bitter feeling seeing one of the music artists I've listened to gaining traction in the media, not for his genius lyrics or hip-hop beats, but for his recent behavior online in regards to divorce, jealousy, and a heated custody battle.
To summarize the conflict, Kim Kardashian and Kanye West have recently been a trending topic in the media due to their peevish and extremely publicized divorce. There has been serious tension present on both ends of the spectrum, especially when it came to co-parenting their four children. Both Kardashian and West have made statements online, specifically on Instagram, when sharing information about the matter. West has also made cynical remarks about Kardashian's method of parenting and her blooming relationship with comedian Pete Davidson, which led to scrutiny of his name in the media as well.
Before their split, Kim Kardashian took to Twitter in April of 2018 to defend her then-husband in a tweet reading, "Your commentary on Kanye being erratic…is actually scary. So quick to label him as having mental health issues for just being himself when he has always been expressive is not fair."
When I saw these posts made to Instagram that West released and swiftly removed, I did not see a deranged or a profoundly wicked man. If anything, I saw a man venting frustrations accumulated after experiencing extreme hardships. West's struggles were used for the entertainment of onlookers in a manner that would leave anyone in a vulnerable state.
Kanye West is a prime example of how we as a society need to acknowledge the double standards surrounding men's mental health. There is a huge stigma around men and their mental health, as many are quick to make assumptions about a man's mental stability only to scrutinize the same man when he seeks help.
The NCBI highlights the tragic reality when it comes to this issue, "The overall prevalence of mental illness in men is typically lower (Substance Abuse and Mental Health Services Administration ([SAMHSA], 2018). However, mental health among men often goes untreated because they are far less likely to seek mental health treatment than women." Controversies such as this clearly showcase a rising crisis in men's mental health in particular that demands immediate change.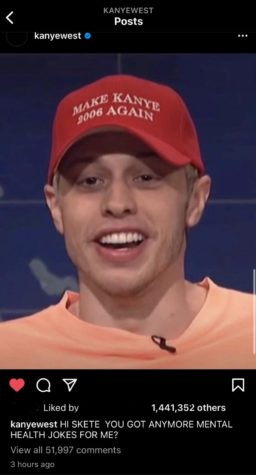 After being used for a bit on SNL, West took to Instagram to address his distaste for the sketch, performed by Pete Davidson. The caption of the first post read, "HI SKETE YOU GOT ANYMORE MENTAL HEALTH JOKES FOR ME?" and another said, "Someone always telling you you're crazy can drive someone crazy…"
While many continue to make fun of West and his tirades on social media, it is still crucial to realize that there is significantly less positivity around men's mental health, as opposed to the jokes, mockeries, and negativity that circulate around the topic.
In an additional post, West apologized for his behavior as of late, and stated he is learning and continuing to grow, "I'm working on my communication. Thank everybody for supporting me. I don't have all the answers. To be a good leader is to be a good listener."
It's important for celebrities, such as West, to be leaders in a movement currently littered with negativity. Normalizing the thought process which assumes men lack mental health struggles is damaging to the 1 in 10 men who experience depression and anxiety. Instead of making assumptions about the mental health of others, we should move forward by promoting practices that show progressive change.
Leave a Comment
Your donation will support the student journalists of Wiregrass Ranch High School. Your contribution will allow us to purchase equipment and cover our annual website hosting costs.
About the Contributor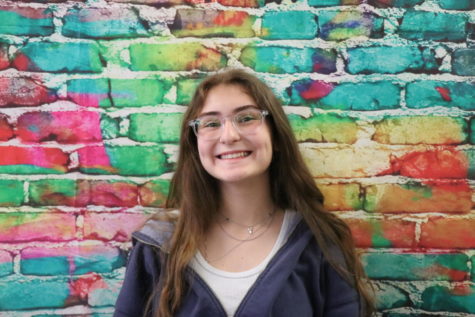 Kayla Arnst, Writer
Kayla is a freshman at Wiregrass Ranch and this is her first year writing for The Stampede. Her hobbies include creative writing and photo editing. After...