Empty bleachers for the Bulls
Pasco County schools implemented a no spectator policy for extracurriculars that lasted only ten days before the policy was amended to limit two spectators per participant.
Pasco County schools Superintendent Kurt Browning placed a new restriction on extracurriculars which prohibited spectators from attending sporting events, musical programs, or theatrical performances starting Nov 23. The new regulation served to counter the increased spike seen in Covid-19 cases throughout Pasco County. 
Browning announced on Nov 20 via social media, "Planned extracurricular activities will be allowed to continue, but without spectators. Our students will be allowed to perform, but we will not have any spectators present."
The new restriction was short-lived, only lasting ten days before a new guideline was announced on Nov 30 allowing two spectators per student participating in the extracurricular activity. This revised rule limits crowd capacity, while allowing family and friends to attend school events if they adhere to the CDC guidelines.
The new policy went into effect Dec 1 after many parents pleaded to the district to make accommodations for family to attend events. The district explained via social media that this policy revision was made in an attempt to compromise after consulting with local health officials.
"The Superintendent changed his mind after talking with staff and limited the capacity for sports and the arts with masks (indoor and while entering outdoor facilities) and social distancing," Pasco County School Board member, Megan Harding confirmed.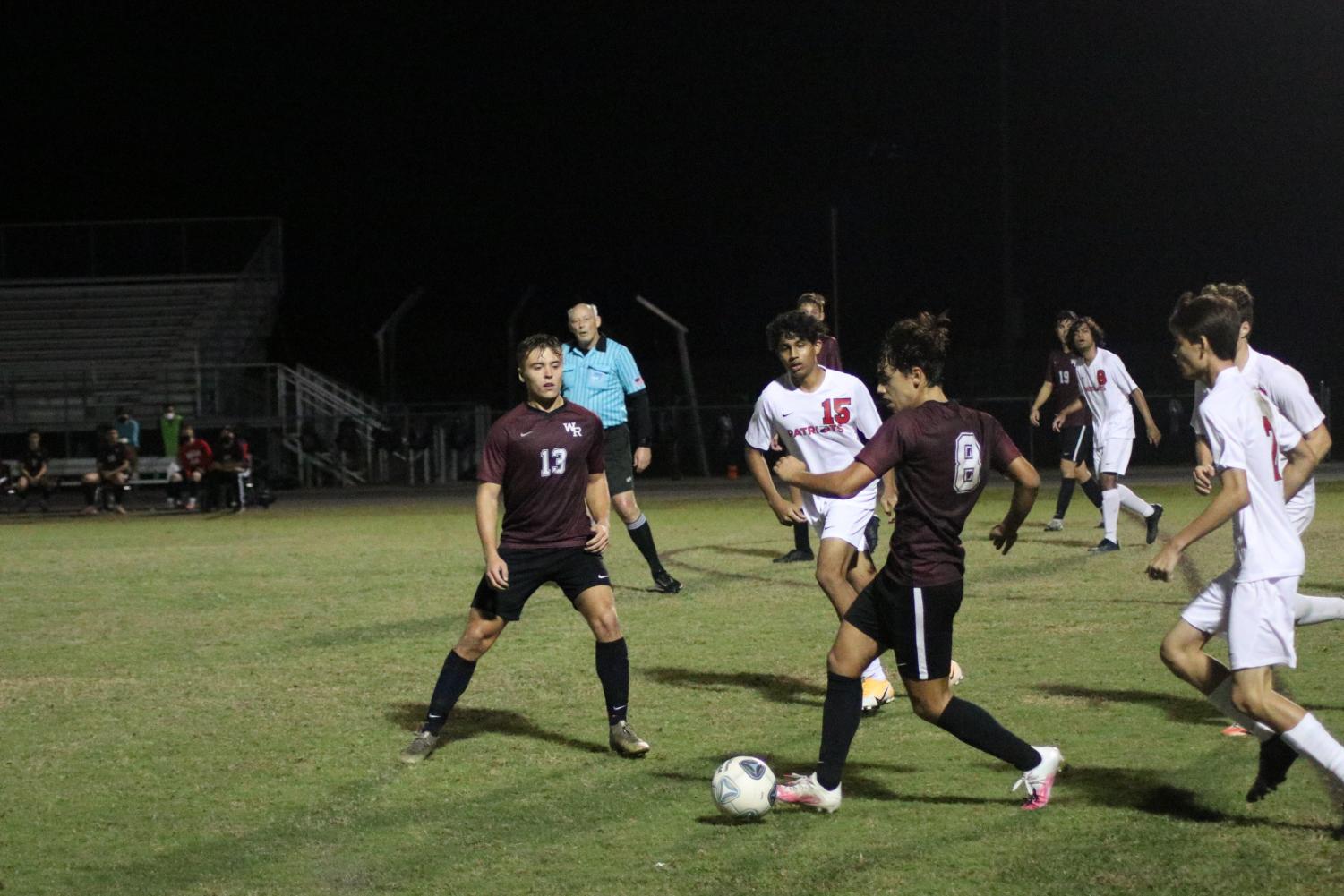 To assure the regulations will be followed, a roster of participants will be checked off at gate entrances to make sure only two spectators per athlete are allowed admittance. Strict social distancing guidelines will also be observed and enforced at each school. 
"We have markers on the bleachers to designate where people can sit and the markers are more than enough distance apart from each other," Athletic Director, Dave Wilson, explained of one of the new protocols.
Boys soccer played one game to an empty stadium during the 10-day no spectator policy and are pleased with the district's decision to allow limited spectators for future games. 
"Playing a game with an empty stadium is very different and weird; when you score it almost doesn't feel as important," varsity soccer athlete Alec Santiago explained. "I'm glad they changed the rule because even though it's not many people, it gives the players something to look forward to every game."
Leave a Comment
Your donation will support the student journalists of Wiregrass Ranch High School. Your contribution will allow us to purchase equipment and cover our annual website hosting costs.