The Future: A Drone Filled Sky?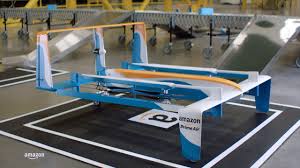 Amazon will soon be launching "Amazon Prime Air" which will ship items to people from an air drone within thirty minutes or less.
Amazon has made small aerial vehicles, or drones, and plans on flying them around with the items people purchase from the Amazon store in the near future. The drones will be flying four hundred feet or less and weigh up to fifty pounds, but the actual package has to weigh under five pounds. The drones have a sleek design and can travel more distances faster then the current packaging process; they can travel fifty miles per hour for twenty miles and land on landing points that the customer prints out and plants outside.
Although Amazon plans to have the drones in the air by the first of January, there have been many delays. The Federal Aviation Administration or the "FAA" has been postponing the launch of the drones. The FAA has been regulating the rules of flying an unmanned drone in the air for the purposes that Amazon requires.
Jeff Bezos, the Ceo and Founder of Amazon, is currently working vigorously on launching the drones. However, the United States' precautionary measures have prompted Bezos to start moving to other countries to see if they will support him.
"We're doing a lot of the R&D and test flights at Cambridge, UK, now because we're getting really good cooperation from the British equivalent of the FAA, the CAA," Bezos said. "It's really incredible." (Online newspaper International Business Times UK.)
Wiregrass Ranch High School (WRHS) freshman Jalen Warner and his family uses Amazon.
"I cant wait till the new drones comes out; I use it for shipping all of my sports equipment so the sooner I get my equipment the sooner I can do things," said Warner. "I do not understand why its taking so long for them to be approved."
WRHS Senior Nedeen Barquez uses Amazon all the time and is excitedly awaiting the arrival.
"I cannot wait until the drones come out; it will be faster and more efficient than regular packaging," said Barquez. "Plus the drones come in different designs so it will be cool to see them soaring in the air."
Leave a Comment
Your donation will support the student journalists of Wiregrass Ranch High School. Your contribution will allow us to purchase equipment and cover our annual website hosting costs.