James Harden should be the back-to-back Kia MVP
James Harden has been playing on another level this season. Is it enough to get him the title of back-to-back league MVP?
This season, James Harden has been on another level, averaging 36.4 points, 7.5 assists, and 6.5 rebounds. He propelled his team all throughout the season; if it were not for him, the Houston Rockets would not even be in the playoffs.
Last season, James Harden recorded an average of 30.4 points, 8.8 assists, and 5.4 rebounds; winning the Kia MVP award for the first time. He is on track this year to out-perform this stat line and potentially win MVP for the second time.
"I need it," Harden said of the honor, per Bleacher Report's Will Gottlieb. "I need it for sure. And I'm getting it."
In order for someone to qualify for the honor, the player must exhibit several "MVP" moments throughout the season. Harden has had a large sum of them this season.
The most memorable of these moments was the 30+ point streak. Harden made history this season when he recorded 32 straight games in which he scored 30 or more points in each game; this streak is the second highest in NBA history after Wilt Chamberlain.
Most importantly was the fact that this scoring streak came when his team truly needed it. The Rockets were 11-14 two games before the streak began; during Harden's magnificent scoring run (December 13 through February 21) the Rockets went 21-11, while Harden averaged 41.1 points, 7.4 assists, 7.6 rebounds, and 2.2 steals. Before this stretch, many were doubting whether the Rockets were going to be the same team as last season; this stretch made those doubters take back what they had said and have faith in the Rockets again.
"I don't want to talk about this anymore. There's nothing to talk about. If anybody has any sense, James Harden will be crowned a two-time league MVP when this season's over," Stephen Smith said on ESPN's "First Take".
Harden's MVP-defining "moment" would have to be the January 3rd game against the Golden State Warriors when he recorded a triple-double with 44 points, 15 assists, and 10 rebounds.
This defining moment was important because Harden was facing the best team in the league with an injury-riddled team; the Rockets were without Chris Paul and Eric Gordon, the next best scoring options on the team after Harden. Harden proved to the entire league that he was the heart and soul of the team when the Rockets really needed it. They were down by two with just 5.5 seconds left of game time; Harden, doing what he is known for, took a step-back three-pointer and drained the shot to seal the game 135-134.
The MVP-race this season has winded down to a two-man race between Harden and Giannis Antetokounmpo. Although Antetokounmpo also has a strong case for MVP, Harden has been on a level that hasn't been matched by anyone for years and is making history.
Antetokounmpo and the Bucks were already predicted to be a good team at the beginning of the season while Harden and the Rockets were being doubted by many saying that the team had fallen apart and that their offseason was a disaster.
A large part of being an MVP is ignoring the doubt and negativity and doing what you need to in order to bring your team to its best possible scenario and that is what James Harden has done this season.
Harden has had a historic season and also carried the load of his team throughout the season so it is only right that he is named MVP.

Loading ...
View Comments(1)
Your donation will support the student journalists of Wiregrass Ranch High School. Your contribution will allow us to purchase equipment and cover our annual website hosting costs.
About the Contributor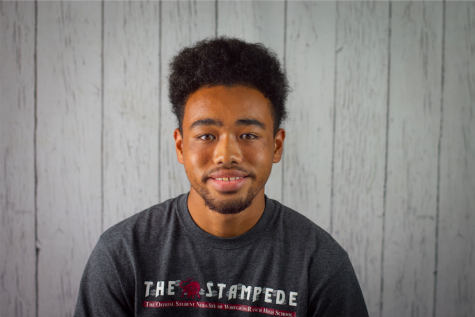 Damon Walden, Writer
Damon Walden is a senior at Wiregrass Ranch High School. This is his first year writing for The Stampede. He enjoys fishing and playing basketball during...