Elon Musk's acquisition of Twitter: the turbulent aftermath
Musk's inconsistencies and false promises have destroyed the leading social platform.
The world's wealthiest individual, Elon Musk, expanded his collection of billion-dollar companies on Oct. 27 with his purchase of the leading social media platform Twitter, for which he paid $44 billion. His acquisition of the app resulted in the emergence of a new era on Twitter: one that can easily be analogized to a dumpster fire.
On Nov. 4, Musk orchestrated the dismissal of thousands of Twitter employees, firing about 50% of the platform's workforce. The individuals affected will stay employed by the company until Jan. 2023 but were immediately rid of their access to Twitter systems and told to return any company equipment.
The mass firing resulted in zero to two engineers being assigned to several critical Twitter systems, dropping a heavy workload into the hands of the remaining employees in the absence of thousands.
The company's workforce diminished even further as Musk's demands grew intolerable, leading many employees to resign. This was the product of a series of hasty, disorganized emails by Musk, the first of which presented an ultimatum and threatened to fire those who did not comply.
"To build a breakthrough Twitter 2.0 and succeed in an increasingly competitive world, we will need to be extremely hardcore," Musk said in the initial message. "This will mean working long hours at high intensity."
The email, sent on Nov. 16, ended with a note that anyone who did not agree to the injunction by 5 PM the next day would be given three months' severance pay.
On Nov. 18, Musk delivered another email to Twitter's software engineers, ordering them to appear at Twitter Headquarters by 2 PM that day. In a fourth email, Musk soon recanted this order, saying that flying to San Francisco (where HQ is) "would be appreciated, but not essential."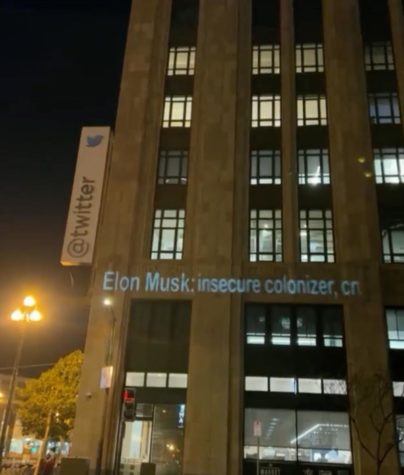 The dysfunction of Musk's management motivated many Twitter employees to step down from their positions at the company. The real slap to the billionaire's face, however, came when an activist projected words of scorn for Musk's behavior onto the walls of Twitter HQ: "insecure colonizer," "supreme parasite," and "apartheid profiteer," among others.
As if the struggles of Twitter's employees weren't bad enough, users of the online social platform itself have battled with the disorderly fashion of Musk's actions.
Before Musk attained Twitter, the site, like many other media-sharing platforms, had a system to verify known companies' and public figures' identities, known as the "blue check mark."
In early November, Musk introduced a subscription-based system where users could pay $7.99/month to have their own blue check mark; chaos ensued in the form of thousands of parody accounts.
Pharmaceutical company Eli Lilly and Co. publicly apologized after a parody account under their brand name tweeted that insulin was free; soon after the tweet surfaced, stocks in the company plummeted.
Unsurprisingly, people have regarded Musk's implementation of a second blue check mark as senseless.
"Twitter has, over the past several years, worked to try to improve that [misinformation]," AJ Bauer, professor at the University of Alabama, said. "It seems like Elon Musk has unraveled it within weeks."
Musk's prioritization of free speech on Twitter has allowed him to craft and promote a substantially uncomfortable environment for marginalized groups on the platform. Since altering Twitter's content moderation policies, Musk has learned that allowing everyone to speak without consequence is not a viable option.
Before the transfer of Twitter ownership, Kanye West was permanently banned from the site for threats toward people of Jewish descent. In a notably controversial move, Musk returned his access to Twitter. However, Musk soon reinstated the suspension in response to West's posting of an image depicting a swastika, a symbol primarily associated with Nazism, within the Star of David.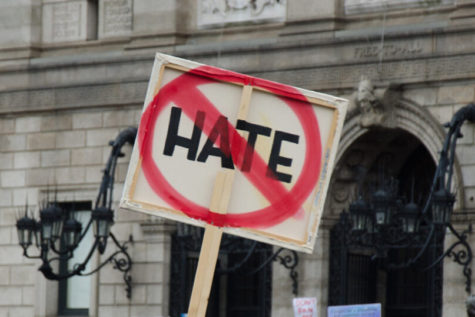 Musk's current track record for Twitter content moderation is disturbingly unimpressive. His plans to promote free speech hadn't considered the prominence of hate speech that an unmoderated platform would breed.
Moreover, despite Musk's claims that rates of hate speech had fallen since he acquired Twitter, there was a tremendous increase in racist, homophobic, and religiously discriminatory slurs and language in tweets.
"Elon Musk has again been exposed as misleading users and advertisers, claiming 'mission accomplished' despite his clear failure to meet his own self-proclaimed standards to clamp down on vicious bigotry," Imran Ahmed, CEO of the Center for Countering Digital Hate (CCDH), said.
The detrimental changes that Twitter has undergone, both internally and externally, since Musk's management have made it difficult for users to enjoy the site as they once did. The platform has become a hotbed for hate speech; as long as Musk is CEO of Twitter, stability will not be restored.
Leave a Comment
Your donation will support the student journalists of Wiregrass Ranch High School. Your contribution will allow us to purchase equipment and cover our annual website hosting costs.
About the Contributor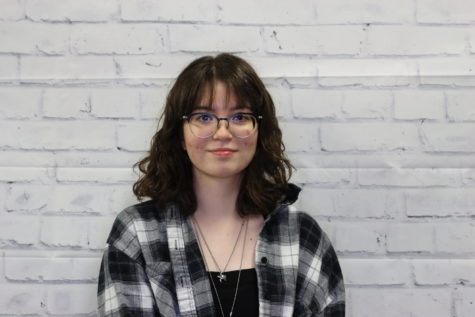 Dominique Phillips, Copy Editor
Dominique is a junior and this is her first year writing for The Stampede. She enjoys reading, writing, baking, and creating art in her free time. Dominique...