Why the film 'Tick, Tick…Boom!" was more intricate than it let on
The legendary Broadway star, Lin-Manuel Miranda's new film, "Tick, Tick, Boom…!" released on Netflix Nov. 12 and is a roaring success.
Director, Miranda, became inspired to create his film "Tick, Tick, Boom…!" in tribute to the late lyrical genius, Jonathon David Larson. Larson was a remarkable composer in the 1990s who became famous for creating the groundbreaking musical "Rent", which later won numerous awards. However, before Larson had the ability to watch his musical come to life off Broadway,  he died the morning of the preview due to an aortic aneurysm. Hence, causing much of his un-published or lesser known material to become scrapped.
However, in spite of the disheartening events that occurred; nearly twenty years later, Lin-Manuel Miranda decided that Jonathon Larson's incredible story deserved to be told and decided to create "Tick, Tick, Boom…!"
Ashley Williams, a senior and long time fan of Jonathon Larson, shared her thoughts regarding the film.
"When I heard that Johnathon Larson's life was going to be depicted as a film I was ecstatic," Williams explained. "I have been a fan of Larson's for years, so the fact that Lin-Manuel Miranda was able to successfully create a film that showed what it was like to be him, made me very happy."
Furthermore, "Tick, Tick, Boom…!" also proved to be exceedingly honest and thought provoking. Larson's songs combined with Miranda's visuals helped enhance the story in ways never thought imaginable. Meanwhile, the multiple universal themes presented throughout the film, helped tie into the reality of whats it's like to accept the responsibilities of growing up. Specifically illustrating how when one is a child, it is okay to have big dreams; however, upon adulthood, those same dreams quickly become looked down upon and must be shrunk to fit societies toxic standards.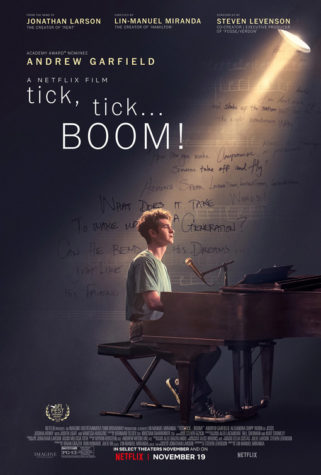 Junior, Liana Ling, shares how surprised she was upon realization of the deeper meanings behind the film.
"Before I watched  'Tick, Tick, Boom…!' I honestly thought it was going to boring and nothing special from other musicals I've seen," Ling expressed. "But midway through the movie I realized that the truths being displayed in the songs were deeper than I expected."
Similar to a game of tug-of-war, the fight to hold on to one's childhood dreams in a world against you, is a major theme resounding through the film.
Additionally, many fans believe that the cast of "Tick, Tick, Boom…!" couldn't have more fitting. With the notorious actor, Andrew Garfield, who is most known for his former roles starring in, "The Amazing Spider-Man", and "The Social Network", to play the lead role of Jonathon Larson. As well as, former "High School Musical" star, Vanessa Hudgens to play the very talented Karessa Johnson; fans were blown away with the exceptional performances.
Bella Pagliuca, Junior, shares her opinion on performance of the cast.
"I thoroughly enjoyed all the actors and actresses that were cast in this film," explained Pagliuca. "Specifically, though I was really impressed by Robin de Jesus, whose performance grabbed my attention the most."
Subsequently, the performance of Andrew Garfield as Johnathon Larson, caught a considerable amount of attention. It would appear that many of Garfield's loyal fans who watched the film were significantly surprised. Apparently, not many individuals realized that Garfield had an exceptional talent of singing, causing them to become absolutely astonished by his secret skill. Not to mention, Garfield was also able to imitate the distinct mannerisms of Johnathon Larson as well.
Overall, the film, "Tick, Tick, Boom…!" is a must watch and Lin-Manuel Miranda was definitely successful in his attempts to tell the story of Jonathon Larson.
Leave a Comment
Your donation will support the student journalists of Wiregrass Ranch High School. Your contribution will allow us to purchase equipment and cover our annual website hosting costs.
About the Contributor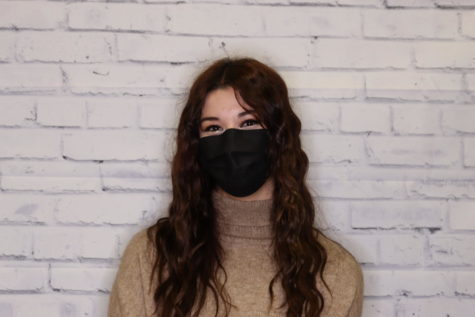 Jennifer Sleem, Writer


Jennifer is a senior at Wiregrass Ranch, and this is her second year writing for The Stampede. She is a member of NEHS, NAHS and Key club. She is...