Marvel's New Netflix Series "Luke Cage" a Major Success.
On October 1st, 2016, Netflix's servers crashed mysteriously for a few hours. The cause? Some people believe it was the sheer amount of people watching Marvel's new series, "Luke Cage."
Be warned, major spoilers ahead.
The 13-episode series was officially released on September 30th, 2016. It
is centered around Luke Cage (Mike Colter), a Harlem resident with superhuman strength, indestructible skin, and a dark past. Cage is forced to fight the corruption in the city of Harlem, after his friend and father figure Henry Hunter, referred to as "Pop," gets killed.
When it comes to antagonists, this show has an abundance of them, starting with Cornell "Cottonmouth" Stokes (Mahershala Ali). Stokes is the owner of popular nightclub "Harlem's Paradise", and also plays the role of an unforgiving crime boss with deep ties in Harlem. He works with his cousin Mariah Dillard (Alfre Woodard), an aspiring politician who hopes to bring change to the city of Harlem, by any means.
Hernan "Shades" Alvarez (Theo Rossi) is a cunning street criminal with ties to Cage's past. He works for Willis Stryker A.K.A. Diamondback, a ruthless arms dealer that may be the boldest of all the villains in this series.
This isn't to say Cage doesn't have help of his own, however. Mercedes "Misty" Knight, played by Simone Missick, is a hard-nosed NYPD detective that is determined to figure out the character of Luke Cage and what is going on under the surface of Harlem. Rosario Dawson reprises her role from "Daredevil" as Claire Temple, a nurse from Hell's Kitchen who seeks to help Cage in his attempts to clean up the streets of Harlem.
At the end of the day, this is a series based on comics, and the show manages to brilliantly balance comic book spectacle with a more realistic script in the vein of The Dark Knight. Subtle nods to Luke Cage's original suit in his 1970's comics works it's way into the series, and we even get an early nod to another one of his alias's: Power-Man.
Music is a crucial part of this show. The hip-hop soundtrack is used to compliment the setting of the gritty streets of Harlem, New York. One of the most intriguing nods to hip hop culture, in addition to a nice cameo from Method Man, is that every episode shares the name of a Gang-Starr track, such as "Take It Personal", "Step In The Arena", and "Moment Of Truth." .
This show, often times, can be unapologetically black, which has led to some controversy. According to The Root, some people on social media have gone as far as to claim that the show's apparent lack of Caucasian actors is "racist" on various forms of social media. Others, however are quick to point out that media such as TV and movies have a Caucasian majority of actors.
Some of the imagery used in this show is entirely symbolic. Keeping in mind the recent events of racial tensions being broadcast daily, seeing a bulletproof black man in a hoodie (and a former police officer at that) can be a powerful and thought-provoking image, especially for a younger generation.
Reviewers have been widely receptive of Luke Cage. Rotten Tomatoes gave the series an approval rating of 95%, while Metacritic gave the show a score of 79/100.
At its best, "Luke Cage" is a show about black culture disguised as a superhero show. Unlike other Marvel shows like "Daredevil" and "Jessica Jones", Luke Cage is relatable for a target audience of minorities.
However, just because the show may be specifically targeted at a particular audience, doesn't mean another audience can't thoroughly enjoy it. If you have free time on your hands, this is a must watch series, regardless of race.
Leave a Comment
Your donation will support the student journalists of Wiregrass Ranch High School. Your contribution will allow us to purchase equipment and cover our annual website hosting costs.
About the Writer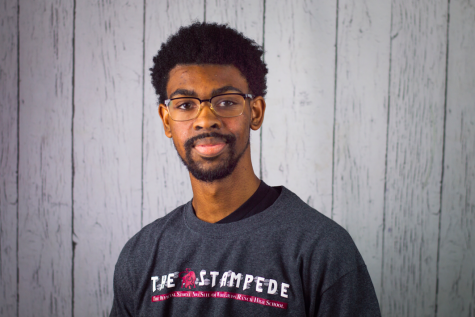 Stephen White II, Entertainment Editor
Stephen White II is a senior at Wiregrass Ranch High School. This is his second year writing for The Stampede. He likes to listen to music as well as write...