Donald Glover's "Atlanta" a Home Run for FX.
If you have been following the news that has been trending over the past couple of weeks, odds are, you have heard of FX's new show "Atlanta." It has been widely acclaimed, from both critics and viewers. So high, in fact, that review website "Rotten Tomatoes," gave the show a perfect 100%, and "Metacritic" rated it a 90/100.
From the first episode, the praise is clearly warranted. Straight from the creative mind of actor, rapper, and comedian Donald Glover A.K.A. "Childish Gambino," "Atlanta" follows Princeton dropout and general deadbeat Earnest "Earn" Marks and his cousin, aspiring rapper Alfred "Paper Boi" Miles (played by Glover and Brian Tyree Henry). The show follows the two as they weave their way through the everyday life in the city of Atlanta.
The first episode of "Atlanta" aired on FX on September 9th, 2016. Right from the start, you get a sneak peek into the end of the episode. Earn tries to plead with Alfred not to "mess up the money" after another man breaks Alfred's car mirror in a fit of rage. Alfred refuses to listen and steps out of the car to argue with the other man, which leads to a standoff of sorts. The scene ends with the sound of a gunshot, then the screen goes black.
This is the first scene you see of "Atlanta," and if it doesn't hook you, this may not be the show for you. The episode flashes back to the events that led up to the confrontation, including properly introducing the characters of Earn and Alfred, and their relationship with each other. Earn wants to become Alfred's manager after learning his cousin is the internet sensation "Paper Boi."
The show can be highly relatable, but on the flip side it can be eccentric too. For instance, Earn receives advice from the man across from him while on a bus with his daughter. Then, suddenly, the man threatens Earns to 'light his sandwich", then walks off the bus and disappears into the woods.
The second episode deals with prison culture as Alfred and Earn are placed on bail after getting arrested for the events at the end of the previous episode. This episode deals with issues such as police brutality and mental issues that are rarely addressed in a form of media such as television. Every episode delves deeper into the lives of Alfred and Earn, and even features a few big names (rapper Gucci Mane was brought up in episode 2, while rap group Migos guest starred in episode 3.)
This show isn't going away; in fact, it's only getting more popular. Not only did "Atlanta" just get renewed for a second season only 4 episodes in to the first, but it also broke an FX record of 3 million viewers for it's first episode.
I recommend you watch the first 4 episodes of this show. This show really showcases Glover's talent as an actor, and after performing live at his Pharos concert earlier this month, it's safe to say this has been a stellar September for Glover.
Leave a Comment
Your donation will support the student journalists of Wiregrass Ranch High School. Your contribution will allow us to purchase equipment and cover our annual website hosting costs.
About the Contributor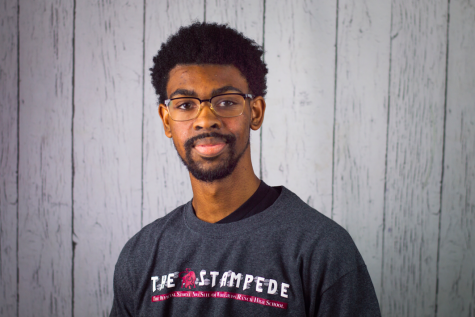 Stephen White II, Entertainment Editor
Stephen White II is a senior at Wiregrass Ranch High School. This is his second year writing for The Stampede. He likes to listen to music as well as write...