Marching Bulls build momentum
Still a month away from the end of the season, the Wiregrass Ranch High School (WRHS) Marching Bulls have rounded up a huge collection of trophies from three competitions so far, with only one more to go.
The Marching Bulls have been working on their show "Magnetic" since June, practicing for long hours multiple times per week and performing at football games. This show explores the concepts of magnetism, such as attraction and repulsion, red and blue (seen in the members' uniforms), and includes compass needle props.
At their first competition, held at Cheifland High School on September 30, the Marching Bulls earned the title of grand champion, holding the highest score of every band in attendance, and first place in class 4A. They also received caption awards, including best colorguard, best visual, and best music.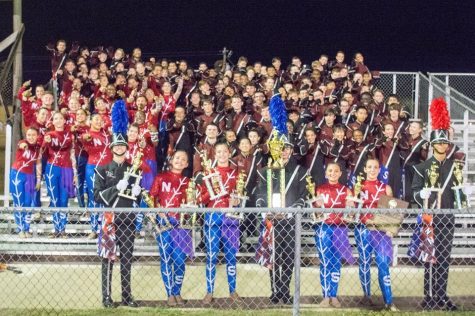 The next weekend, the band competed four hours away at Flanagan High School. Here, they placed second in their class and fourth overall out of about 25 bands and earned the caption award for best music.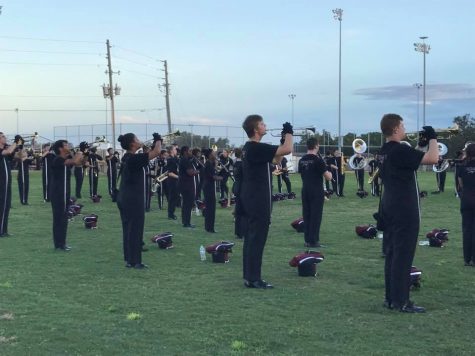 On October 14, the Bulls placed first in class at Tarpon Springs High School. They also earned the caption award for best drum majors. This show was a big one, since it was the Bulls' last real competition until championships.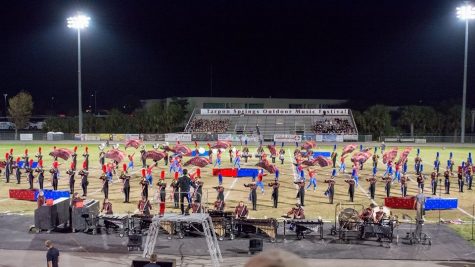 WRHS will be hosting a competition on October 28, which is an enormous fundraiser for the band program. The following Saturday is the band's music performance assessment (MPA), which is not a competition against other bands but a rating for each individual group.
The Florida marching band championships, the Marching Bulls' final event of the season, will be on November 18 at Tropicana Field. With the success of the band so far, WRHS could definitely have the chance to win this year.
No matter the results of championships, the Marching Bulls have had a spectacular season that doesn't show sign of slowing down.
Leave a Comment
Your donation will support the student journalists of Wiregrass Ranch High School. Your contribution will allow us to purchase equipment and cover our annual website hosting costs.