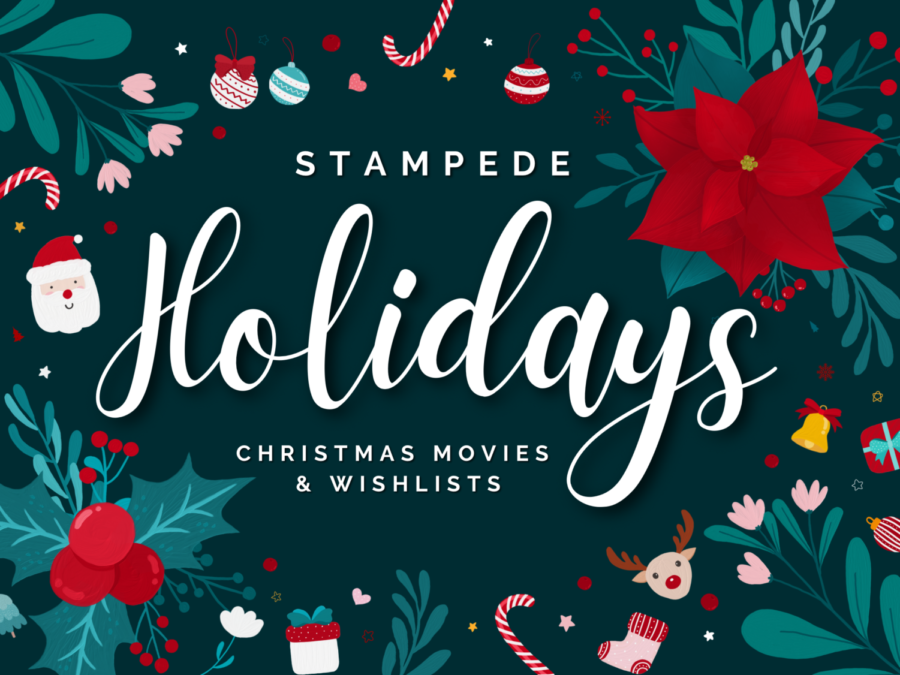 Stampede Holidays Collection
December 15, 2022
Countdown to Christmas: the greatest holiday movies
Christmas is just around the corner, and for many that means it's time to binge-watch some holiday favorite films. The Wiregrass Ranch student body voted on their favorite holiday movies this season, and here are the results.
1. Home Alone
According to the Bulls, the number one Christmas movie of all time is Home Alone.
"The thrill and excitement of Kevin being chased by the Wet Bandits kept me on my toes and brings back memories of Christmas as a young child for me every year," sophomore Christopher De Vita said.
Home Alone is a hilarious, action-packed film about a young boy named Kevin McCallister, played by McCauley Culkin, who was accidentally left behind while his family vacationed in France. While Kevin's mom Kate McCallister, played by Catherine O'Hara, is frantic to find a flight back home to her son in Chicago, Kevin stumbles upon two petty thieves who call themselves "The Wet Bandits." Kevin plans an elaborate sequence of tricks to stump the Bandits from trying to catch him. Through his trickery, Kevin successfully helps the cops catch the Bandits and cleans his house before his family returns on Christmas.
2. Elf
Only two votes behind the winner, Jon Favreau's "Elf" came in second place.
"Elf is a timeless Christmas classic that's comedic and brings joy to my family and I every holiday season," senior Juliette Bull said.
"Elf" entails the storyline of an orphaned toddler who wandered into Santa's sack one Christmas Eve; ever since he was raised by elves at the North Pole. When Buddy, played by Will Ferrell, got older, he realized he wasn't the typical elf. He asks Papa Elf to tell him the truth about his upbringing and upon learning the truth he sets off on a mission to New York City to find his biological father, Walter Hobbs. A DNA test proves that the childlike Buddy the Elf is actually Hobbs's son; Hobbs then reluctantly attempts to form a relationship with his son, ultimately resulting in playful chaos.
"Elf" is a must-watch joyful Christmas comedy where everyone will get in a good laugh.
3. How the Grinch Stole Christmas
"'How the Grinch Stole Christmas' is my favorite Christmas movie, partly because of how well Jim Carrey portrayed his role, and the movie brings back nostalgic memories for me annually," sophomore Isabella Coker said.
Inspired by Dr. Seuss's 1957 book, "How the Grinch Stole Christmas" is a live family fantasy of the story created by Seuss himself. The Grinch is an unhappy green grump who lives on the mountaintops of Mount Crumpit and he seeks to ruin and steal Christmas from all of the cheery citizens of Whoville. While on his mission to steal Christmas, everything changes as he stumbles upon Cindy Lou Who, an endearing and friendly child who changes the Grinch's heart through her love and holiday spirit.
This Christmas classic is heartwarming and portrays a message of how Christmas goes far beyond just the gifts under the tree.
4. The Santa Clause
Last, but certainly not least, is Tim Allen's "The Santa Clause."
"'The Santa Clause' is a movie that never gets old," English teacher Ashley Swain said. "I love to watch it every year with my family. Tim Allen is hilarious."
"The Santa Clause" is a film about divorced Scott Calvin who has his son Charlie on Christmas Eve. After accidentally killing Santa Claus, Scott puts on the Santa suit, and he and his son are taken on a magical journey around the globe, eventually ending up at the North Pole. Scott wakes up the following morning believing it was all a dream, but over the next few months, he begins his transition into the new Santa Claus.
This children's comedic Christmas fantasy is another go-to holiday movie that one will never get bored of.
Don't be a Grinch-  grab some cocoa and cookies, put on your comfy pajamas, and watch these Christmas movies to help get you into the holiday spirit. Channel your inner Buddy the Elf and remember, "the best way to spread Christmas cheer is singing loud for all to hear."
Leave a Comment
Wiregrass Ranch Christmas wishlists
What is at the top of your Christmas list this year? The Stampede Instagram page polled Wiregrass Ranch about what they most hoped to receive this year.
Some of the top responses included a car, an Apple Watch, and a new iPhone.
"I have a car at the top of my Christmas list because my parents promised me a car for Christmas," senior Mariah Santana said. "I could really use one to help get around, especially to work and school, instead of getting rides from friends and family. It would be really helpful and convenient."
Senior Elijah Conley is hopeful for a new photo printer.
"I love having physical copies of memories," Conley explained. "The Instax photo printer allows me to print out my photos similar to polaroid's."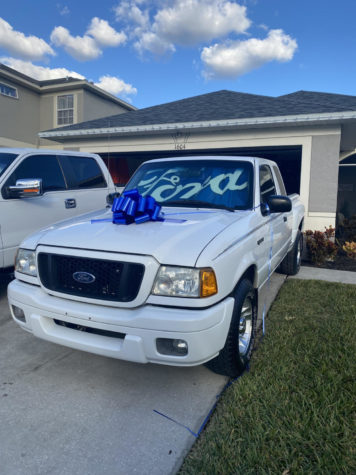 Sophomore Chris Devita also asked for a hot new tech item.
"I really want a new gaming computer laptop," Devita said. "I've had my old one for three years and its slowed down so much; a new one is definitely needed."
While technology may be at the top of most lists, there are many who value homemade gifts as well.
A senior student at Wiregrass, Genae Nells, explained how she makes homemade gifts for her family and friends for Christmas.
"I decorate and personalize these Starbucks cups as Christmas gifts for my friends and family," Nells said. "I decorate them by adding glitter and decals. I also do acrylic nails for my mom, cousins, and friends."
Senior Trinity Tran agreed with Nells that handmade items are her favorite gift to receive.
"When someone that you care about puts effort into making something specialized for you, it's like a piece of them that you have been given," Tran explained. "I will always think about that person when I use the item."
Other students put fashion first on their lists.
"I am hoping for a new pair of Tory Burch sandals," senior Alysa Bodanza said. "They are perfect with any outfit."
Christmas wish lists are not only fun to make, but helpful for those shopping for you. It's also important to remember not everyone can get everything on their list- and to give back to your community if you are able to do so. The Stampede staff wishes all our Wiregrass family a Happy Holidays! See you after the Winter Break Bulls!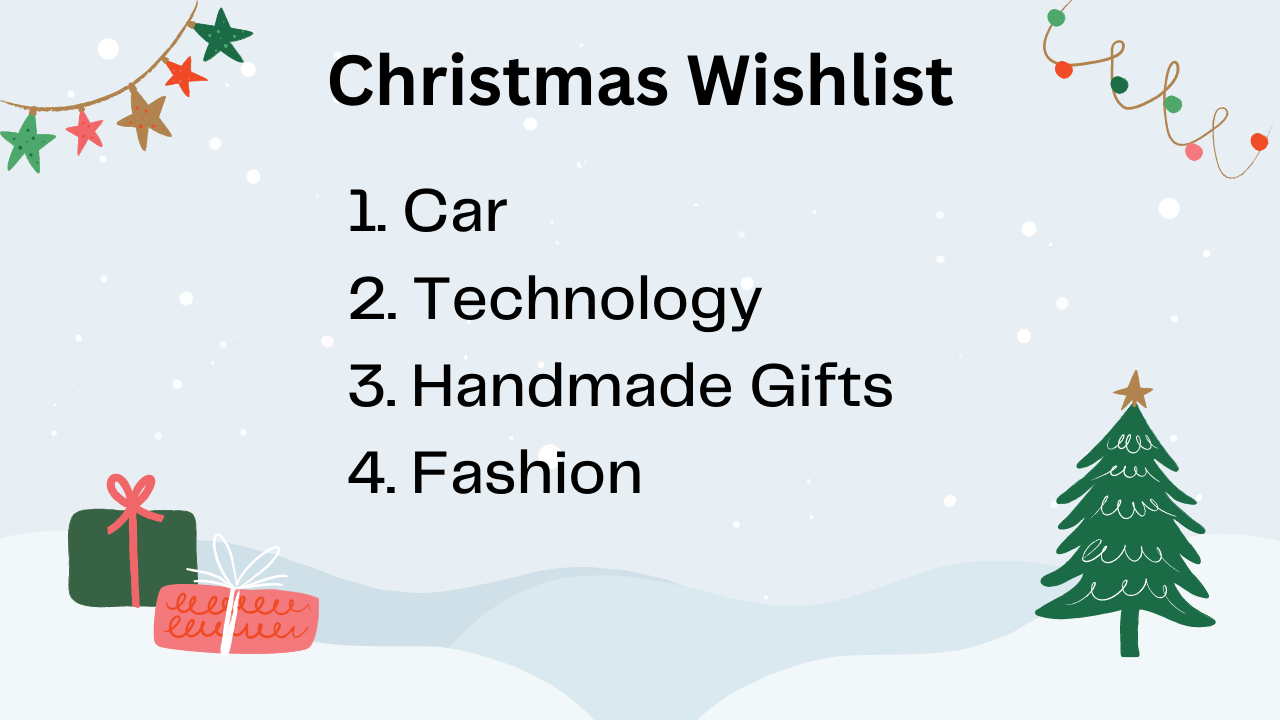 Leave a Comment