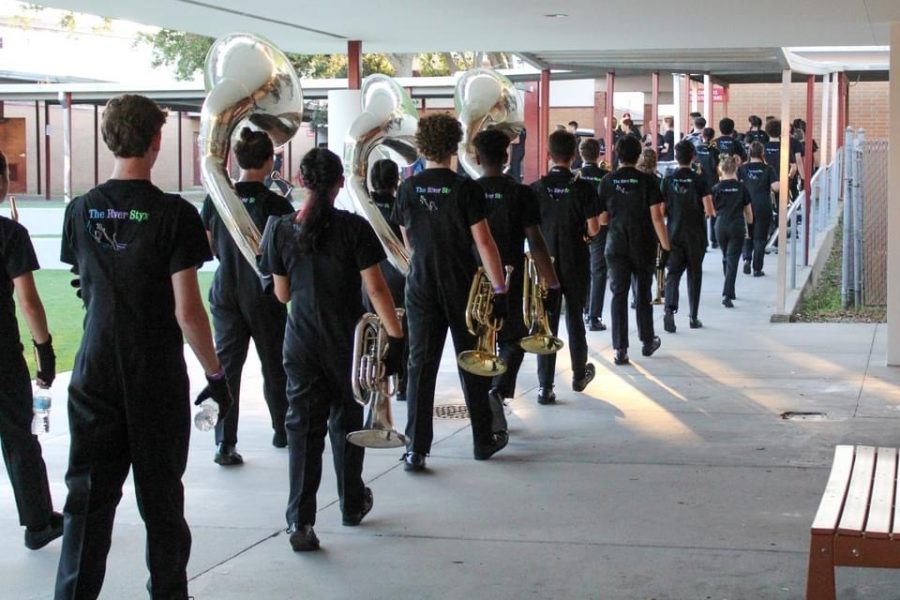 Marching Bulls start off strong
The Marching Band bulls have officially started their competition season.
The Bulls marching band competition season has officially begun, and once again, the band is hard at work. The band performed very well in their first two competitions, receiving second and first place respectively for the shows.
The show this year is called "The River Styx" and depicts the Greek mythological story of the River Styx in the underworld. The first part of the show, also known as the opener, embodies the descent to the underworld; the souls of people who have passed dance around the river bank, trying not to get dragged in by the lost souls within the river itself.
Wiregrass staff member and designer of the show, Branden Anglin, explained a little more about the second and third parts of the show, or the ballad and closer.
"In the ballad, the river starts to entice them [the souls entering the underworld] to stay forever and tells them to come to sail away into the underworld," Anglin explained. "Then we finish the show by getting stuck in the underworld forever by getting pulled into this big green vortex that we've made on the field."
To create their show, the band puts in several hours a week for multiple days after school and on Saturdays to learn drills, add design, practice music, etc… Senior and Drum Major Xander Pascua gave insight into the behind-the-scenes of creating the show.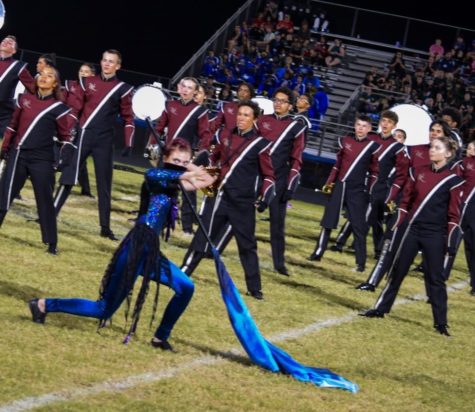 "It was a lot of cleaning up feet timing, learning how to march with the tarps and the prisms on the field, and trying to add character to our movements," Pascua said. "[Also] making sure we were still having fun rehearsals while doing the hard work."
The band finally got to show off the Greek-themed show at their first competition at East Lake High School on Oct. 15. They earned second place in their 3A class while also receiving first place overall for individual visuals.
The Bulls' second competition at Tarpon High school took place on Oct. 29 and resulted in them earning first place. The band also received the best overall percussion and general effect.
Color Guard member and junior, Arianna Hentzel, shared her thoughts on receiving first place.
"Overall I'm just proud of us as individuals because it showed off how hard we worked," Hentzel said. "We all worked towards one goal that honestly made us closer together as a whole."
Coming up in the marching competition season is the Florida Marching Band Championships (FMBC) semi-finals and finals, where they will compete once again for the national title.