Clubs Showcase: Unity Club
A club working towards peace and unity.
Unity Club has been a club at Wiregrass since 2008. Sponsored by Stephanie Kincaid, an English teacher at Wiregrass, the club is all about togetherness, and is open for all grade levels.
The club focuses on creating a space that is welcoming for all students to come together and discuss all sorts of topics. It is mainly a student led Club, with co-presidents Victoria Picarelli and Dikembai Woodfill leading the charge when it comes to discussions and deciding what topics the meetings will focus on.
"It's just a really nice space because there's no judgement, [or] predispositions about people," Picarelli stated. "We're all just very welcome here and there's no judgement against anyone."
While a meeting is in session, it's common to find the club in small groups, discussing whatever is on a student's mind that they would like peer input on. Students in the club are able to speak without fear of voicing their opinions on different matters. This aspect is very well-liked by the members, including Ariana Heraut, a senior at Wiregrass.
"I decided to join unity club after I went to Unity Day [my] freshmen year and I got to meet very interesting people," Heraut stated. "It was the kind of community I like to be in, so I stayed."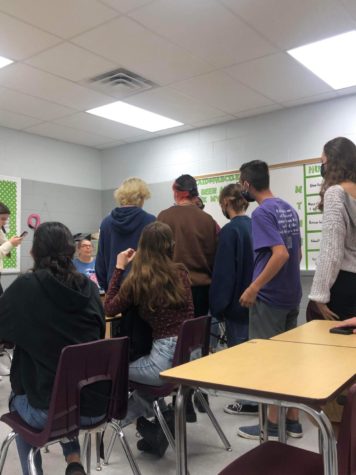 Every year, the club looks forward to hosting their big event: Unity Day. This event takes place during the school day in the gym. It is a chance for anyone in the school to discuss real wold topics in a supportive environment; topics range from suicide prevention, LGBTQ+ awareness, body positivity, and isolation and reconnection. The main goal being to make Wiregrass a safe space for all students.
"This is an opportunity for anybody to come join us, and I like that because we do have a very diverse population in the club as well as on campus, and a space for those voices to be heard is so important," Kincaid explained.
Unity Day was originally scheduled for Nov. 5, but due to a lack of sign-ups, it has been postponed until Feb. 4. The club will host their next meeting on Jan. 10 if you'd like to check out the club.
For all comments, please provide your first and last name, separated by a space (ex. John Doe). You must also include a valid e-mail address. Comments not submitted with this format will not be approved. All submitted comments are subject to approval by a student editor. Comments are expected to adhere to our standards and to be respectful and constructive. As such, we do not permit the use of profanity, foul language, personal attacks. The Stampede and its editors reserve the right to reject a comment for any reason. Comments do not necessarily reflect the view of The Stampede.