Club showcase: Trivia Club
A new club at Wiregrass Ranch offers a fun opportunities for trivia lovers.
Many new clubs were formed at the start of the new school year, one of which being the Trivia Club. Trivia Club is a competitive and fun club that is open to all students and teachers who enjoy trivia. This club provides an opportunity for students to interact with their peers and teachers in a more light-hearted and exciting environment.
The club is sponsored by English teacher Kimberly Krook and staff member Tammy Williams. Williams and Krook were also the sponsors of the Board Games Club in prior years.
"With Covid restrictions, we really didn't want to have the cross-contamination required to play board games," Williams said. "Trivia was the next best alternative."
Each meeting follows a simple procedure. Students come in with teams of their choosing, sit down, and play three rounds of trivia.
"I thought it was a great opportunity to have fun with my friends," Hyde explained.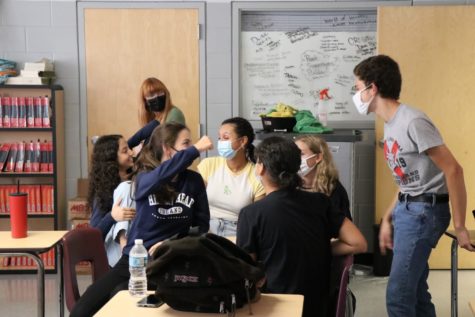 The category of trivia topics has endless possibilities: pop culture, history, science, etc… With the wide range of topics, any student can participate and find topics of interest.
"[I know most about] history, because I'm a literal history nerd," club member Xander Barragan said.
Trivia club has opportunities for all students or teachers to come and work together. This club gives people a chance to use their intelligence to win prizes and be a part of a team. If you are interested in joining the club, their next meeting is Tuesday, Nov. 16 after school.
For all comments, please provide your first and last name, separated by a space (ex. John Doe). You must also include a valid e-mail address. Comments not submitted with this format will not be approved. All submitted comments are subject to approval by a student editor. Comments are expected to adhere to our standards and to be respectful and constructive. As such, we do not permit the use of profanity, foul language, personal attacks. The Stampede and its editors reserve the right to reject a comment for any reason. Comments do not necessarily reflect the view of The Stampede.