Club Showcase: The Illuminate club
There have been many new clubs founded this year at Wiregrass, one of which being Illuminate. Illuminate is a religious Christian club that is open to all grade levels.
The Illuminate club is a club where students are able to practice their faith safely and come together as a group for numerous activities. The club was originally created by Jayden Green, a senior at Wiregrass.
"I came to this school seeking a place where I can grow in my faith and also be in fellowship with other Christians, [but] I found out there was no club," Green explained.
Green, elected president of Illuminate, sought to create the club as a comfortable place to make new friends, and bond over shared beliefs. Working alongside Green is the vice-president, Alannis Alvarez.
"[It really is all about] equality, and bringing light into dark times that we have right now," Alvarez added.
Both girls are very excited for their club as they've already begun to gather about 20 new members since its founding, and are looking forward to bringing in even more people.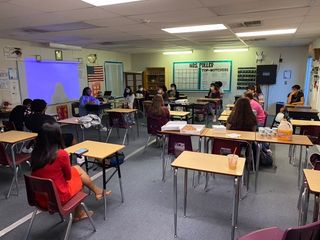 As Wiregrass club rules state, there must be a staff sponsor for each club. So, the girls were happy when Irene Fuller, a teacher at Wiregrass was as spirited as they were about making the club inclusive and fun.
"I really enjoy being able to talk to the students about God freely," Fuller explains.
The club meets every Wednesday at 7am in Fuller's classroom.
"A club meeting looks like donuts, the word of God, prayer, and also announcements about remind codes and important information, if we have any," Green said. "We also have games that we do every meeting, like ice breakers, to get ourselves ready for the word, and talk things out."
The club is always accepting new members, so contact the club sponsor if interested.
For all comments, please provide your first and last name, separated by a space (ex. John Doe). You must also include a valid e-mail address. Comments not submitted with this format will not be approved. All submitted comments are subject to approval by a student editor. Comments are expected to adhere to our standards and to be respectful and constructive. As such, we do not permit the use of profanity, foul language, personal attacks. The Stampede and its editors reserve the right to reject a comment for any reason. Comments do not necessarily reflect the view of The Stampede.