Wiregrass cross country pushes through districts
The boys and girls cross country team placed 6th and qualified for regionals at their most recent meet.
The Wiregrass Ranch cross country team had a successful district meet at Al Lopez Park on Tuesday, October 22, with both the boys and girls teams placing sixth and advancing to the regional meet.
The top five finishers from each school score points for the team. The top five scorers on the girls team were Samantha Scott, Breanna Preiser, Hannah Sheen, Mya Hill, and Sarah Scott. Junior Breanna Preiser finished second on the team with a time of 22:43.  
"I thought the course wasn't bad because it was all flat land, but it wasn't quite the same as I remembered from my freshman year," Preiser explained. "This season I have already accomplished what I wanted which was to PR and make it to regionals. However, I still would like to get down my time from 21:14 to under 21 soon."
The top five finishers on the boys team were Sebastian Hernandez, Jaime Candeleria, Alex Morales, Jack Webster, and Ashton Jhoda.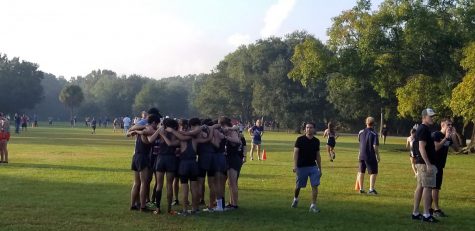 "As a team, I hoped to not only advance to regionals, but also compete with the teams that we would have to beat in order to make states," Hernandez said.
Coach Loth was very pleased with the boys performance on Tuesday.
"Performance at the end of the year competitions is really based off of what you do all the way back in June, July, and August," Loth explained. "They trained hard virtually daily during those months (at 6AM nonetheless) and put in all the miles and key workouts they needed."
Competing at the regional race is going to require hard work and dedication and it will either make or break their season.
"On November 2nd, we will line up for the regional race with an opportunity to qualify for the state finals," Loth said. "They have given themselves a chance and thats all we can hope for."
For all comments, please provide your first and last name, separated by a space (ex. John Doe). You must also include a valid e-mail address. Comments not submitted with this format will not be approved. All submitted comments are subject to approval by a student editor. Comments are expected to adhere to our standards and to be respectful and constructive. As such, we do not permit the use of profanity, foul language, personal attacks. The Stampede and its editors reserve the right to reject a comment for any reason. Comments do not necessarily reflect the view of The Stampede.