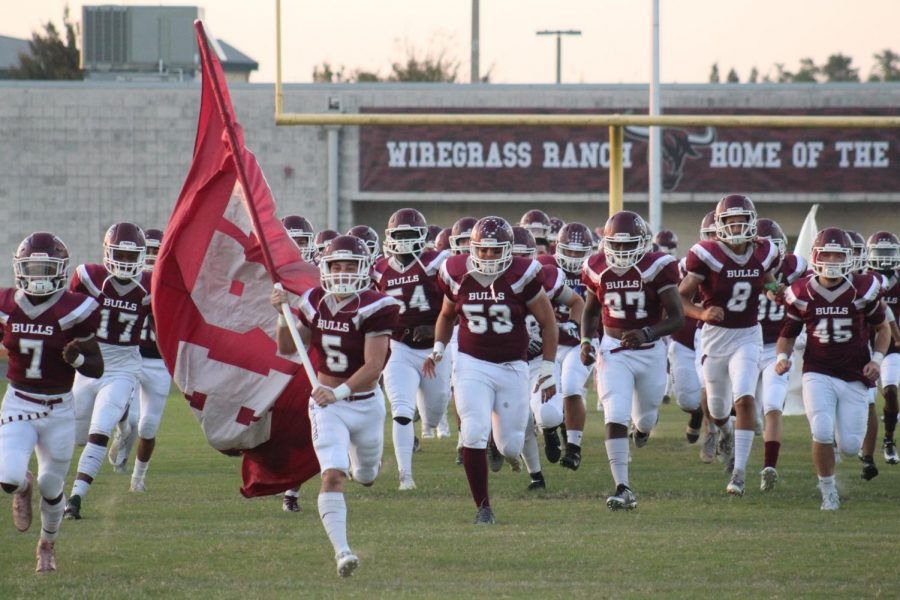 Wiregrass football keeps streak alive
The Wiregrass Ranch Bulls score another big win against St. Petersburg.
The Wiregrass Ranch Bulls football team extended their winning streak, with a crushing victory against the St. Petersburg Green Devils, 43-7 on Friday night. Even with the impact of Hurricane Dorian on practice time, the Bulls pushed through and are now 3-0.
Prior to the game, Head Coach Mark Kantor explained the team only had a day and a half of practice, due to Hurricane Dorian.
"We did a lot of mental reps to prepare for the game," Kantor explained.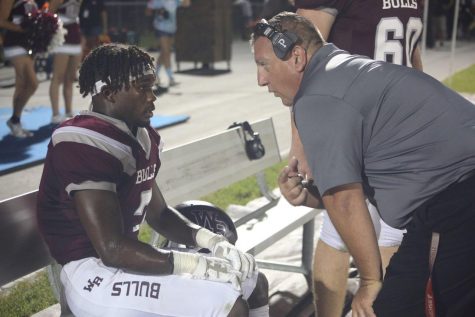 The Green Devils' strong defense held the Bulls to only one touchdown in the first quarter. With seven minutes remaining in the first, Keith Walker scored the first touchdown for the Bulls with a five-yard pass completion from Quarterback Rocco Becht. The Bulls capitalized on a 2-point conversion increasing the score, 8-0. The Devils intercepted a pass by Becht in the final minute of the quarter, but were unable to score.
Walker played a big role in the Bulls victory, receiving for over half of the team's total yards and scoring two touchdowns. Walker credits much of his success on the field to Coach Kantor.
"He's taught me to be a better man," Walker explained. "On the field, he pushes me in games and just lets me get loose when I get my hands on the ball."
Early in the second quarter, the Devils scored their first and only touchdown of the game, and managed to close the gap with Wiregrass 7-8. However, the major action happened in the last two minutes of the second quarter when Wiregrass scored three additional touchdowns.
The first, a rushing touchdown made by Corneil McCrary brought the score up 14-7. The second touchdown, a 36 yard pass by Becht to Julian Gonzalez, was overturned after a flag on the play. The third, another 30 yard pass from Becht, this time to Keith Walker, brought the Bulls back up 22-7.
The third quarter was a tug-a-war between the Bulls and the Devils. Both teams managed to hold back the offensive line, until the last five minutes when Gonzalez scored another touchdown for the Bulls, a 19-yard pass by Becht, ending the third quarter 29-7 and widening the gap between the Bulls and Devils.
In the beginning of the fourth quarter, Junior Grady Clower entered the game, taking over at quarterback, and ran for 37-yards on his very first play. With Clower at the helm, the Bulls scored two more touchdowns, ending the game 43-7.
Coach Kantor has faith his team can continue to succeed if they focus on improvement.
"This team can be very good; however, we have to learn to fix mistakes that we continue to make," Kantor explained. "Once we do that, we will become a dangerous team."