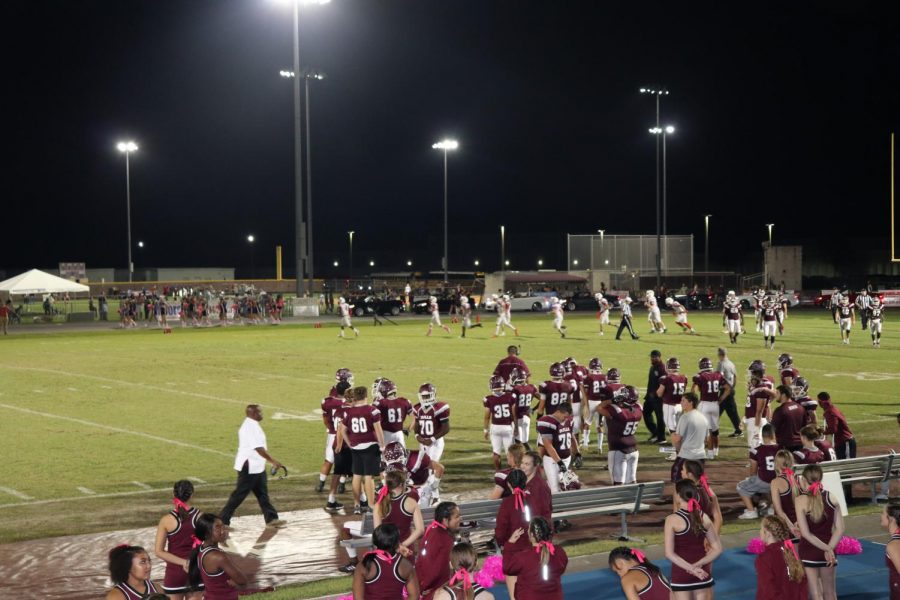 The Bulls impress in Homecoming game vs Freedom
The Wiregrass Bulls defeated the Freedom Patriots 37-7 on Friday night. Since Coach Mark Kantor started coaching the Bulls in 2015, the Bulls have beaten Freedom 2/3 times, the last being a homecoming game where the Bulls won 38-7.
"It's just preparation," Kantor affirmed before the game. "We just continue to get better week in and week out and sometimes you have a teams number, sometimes they have your number. It's going to be a difficult task tonight, they have some good players."
The Bulls started off strong in the first quarter, connecting two touchdowns; the first was a 10 yard run by Keith Walker to put the Bulls up 7-0. On the next drive, the Bulls were able to force a fumble by safety Dorien Green, which was followed by a huge 60-yard throw from quarterback Grant Sessums to wide receiver Julian Gonzalez. The Bulls were quickly up 14-0.
The second quarter was quiet, as only 10 combined points were scored by both teams. The Bulls kicker Hayden Willis converted a field goal to put the Bulls up 17-0. Shortly after, the Patriots put up their first and only points of the night as they ran back a short kick off by Willis for a touchdown, putting the game at 17-7.
The Bulls continued their dominance in the third quarter with a 50-yard throw down the field from Sessums to wide receiver Noah Biglow.  The defense continued to win the turnover battle in the third quarter, recovering a fumble at 7:09 and later at 2:37. The Bulls put Freedom on lockdown and applied massive amounts of pressure on Freedom's wide receivers and running backs, recording a plus four in the turnover battle.
"Turnovers can basically decide a game," linebacker Cameron Lee asserted after the game. "If you look up statistics, whoever wins the turnover margin has a 99% chance to win; we get a turnover and it boosts the momentum of everything."
The Bulls had their last burst of momentum in the fourth quarter with an impressive scoop and score fumble recovery by defensive tackle Kasean Ridgel, which picked up around the 25-yard line and was ran back to finish the game at 37-7.
"I figured that I only had a few seconds to pick up the ball, do every big man's dream and score for them," Ridgel explained after the game. "I just kept running faster and faster."
The Wiregrass Ranch Bulls, who are now 5-2, look to continue their impressive three-game winning streak as they play the 0-7 Leto Falcons on Friday, October 19th. The district final game will be the following week when the Bulls play the 7-1 Plant Panthers.