Wiregrass football triumphs against Wharton
The Bulls dominate against the Wharton Wildcats to bring their record to 3-2.
Hang on for a minute...we're trying to find some more stories you might like.
The Wiregrass Ranch football team demolished the Wharton Wildcats 42-6 on Friday night, a conference matchup that crossed the lines of Pasco and Hillsborough county.
The Bulls were coming off a tough loss to Sickles, losing on the final play of the game 13-12, but were hoping for a third consecutive victory in a row against Wharton.
Head Coach Mark Kantor knew how to prepare for Wharton after the disappointing loss.
"Wharton's a well-coached football team, so we had to prepare for every facet imaginable. They run multiple different kinds of sets on offense, they like to blitz defensively, so we had to be well prepared," Kantor stated.
The Bulls started the game off with a fumble recovery at the 50-yard line. After a 40 yard reception by wide receiver Hunter Helton, quarterback Grant Sessums punched in a touchdown pass to Helton. The Bulls then successfully converted 2 points giving Wiregrass an 8-0 lead just 3 minutes into the first quarter. The Bulls added on to their lead with a 21-yard rushing touchdown by wide receiver Keith Walker, giving Wiregrass a 14-0 lead to end the quarter.
The second quarter was led off with a rushing touchdown by Helton, extending Wiregrass's lead to 21-0. The first of many sacks by outside linebacker Dylan Ridolph led to a punt by Wharton.  
"Whenever I get a sack, it usually hypes everyone up; it makes people believe, if I'm trying hard, then they can try harder too," Ridolph said before the game.  
This proved to be true for the Bulls, as Helton intercepted the Wildcats on Wharton's next possession. After a direct snap to Walker for another touchdown, the game was 28-0, Wiregrass.  
"Running the ball was a big key to success tonight," Walker commented. "We had a lot of practice running the ball, which led to our win."
Wharton had a 48-yard return from the kickoff, which led to their first touchdown of the night, with 28 seconds left in the quarter. After a failed two-point conversion, the score was 28-6 in favor of Wiregrass going into the third quarter.
The third quarter was off to a slow start until Wharton intercepted a pass with 6:21 left. The Bulls then recovered a fumble, with 5:21 left. Sessums followed that with a 70 yard rushing touchdown, bringing the Bulls' lead to 35-6.  An interception by cornerback Jonavon Tillis gave the Bulls possession with 1:45 left. Helton caught his second receiving touchdown of the game, giving Wiregrass a 42-6 lead to end the third quarter.
The Wiregrass defense proved themselves in the fourth quarter, not allowing Wharton to score, and securing the win for Wiregrass.
The Bulls take this win into a bye week, with their next game against the 3-2 Gaither Cowboys at home, on October 5th, trying to bring their record to 4-2 against a conference opponent.
About the Writer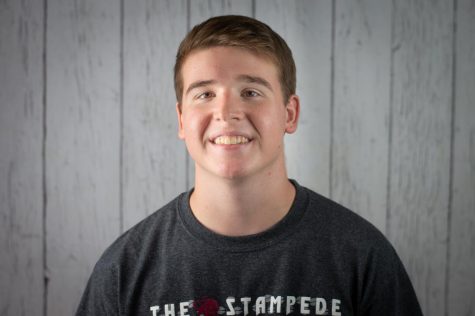 Jason Mazursky, Writer
Jason Mazursky is a senior and this is his first year working for The Stampede. He plays on the lacrosse team, and likes to watch all kinds of sports. He is excited to write about sports, especially basketball and lacrosse. After high school, he hopes to go to college and study physical therapy.