Why is domestic violence awareness necessary?
Domestic Violence (noun): violent or aggressive behavior within the home, typically involving the violent abuse of a spouse or partner.
April 30, 2018
Those who have the privilege of never experiencing domestic violence often never know the extent of the act, or that it even occurs. Having awareness for this problem is the first step in helping victims seek treatment, speak up, or prevent the violence in the first place.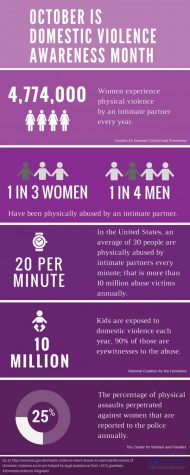 Domestic violence can happen to both men and women, and signs include physical violence (like hitting, slapping, etc.), name-calling, stalking, threatening harm to you or themselves, and many more. Many victims are persuaded by their abusers into believing that abusive behaviors are normal, which is one of the biggest reasons why it is vital for everyone to be aware of domestic violence and to believe survivors who speak out.
This issue is bigger than it may seem; in just 2016 alone, over 100,000 cases of domestic violence were reported in the state of Florida. This number is much too high, and does not even count the many unreported cases across the state.
Especially for anyone who has never experienced domestic violence, it can be hard to relate to those who have, or to know how to help. If you know an abuse survivor, let them know you are there for them, and that there are services available that can give them professional assistance. Most importantly, educate yourself and understand the situation they are going through to the best of your ability.
Domestic violence is not a situation to take lightly, which is why awareness for the cause is important for teens and adults alike.