Golf 2020 Recap
November 22, 2020
The boys golf team had a flawless season with an immaculate record of 7-0; never before seen in Bulls golf history. Finishing 4th in conference and 3rd at districts, the team qualified for regionals as well. Although the team did not win regionals they placed in the highly competed event, an incredible achievement for any FSHAA golf team.
The team was led by seniors: Fab Laude, Harrison Hager, and Ryan Wills. Coach Horrigan made exceptional efforts to achieve a perfect season with the mentorship and guidance he offered to the team. The sophomores on the team, Peter Dachisen and Aiden Brooks, contributed to the perfect season as they provided unforeseen "talent" according to Horrigan. In addition, Dachisen impressed Horrigan as he "started with a shot of 11 on hole 1 and recovered [the round] with a shot of 84."
Girls golf experienced a similar season in that they also qualified for the regional golf championship. The girls team worked together to encourage one another on and off the green. The dedication presented by the team prompted a successful season contributing to the dominating presence of Wiregrass in golf.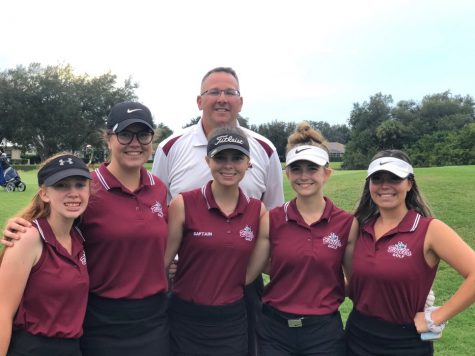 Senior captain, Norah Catlin, won the district individual championship. Girl golfers, Norah Catlin (Sr), Sydney West (So), Gianna Panico (Sr), Brooklyn Beckstead (Fr), and Arianna McKendree (Jr), all made it to regionals through the leadership of Coach Jeremey Calzone.
Catlin has made it to states individually for the 4th year in a row; a first for the Bulls, securing herself as a golfing legend at Wiregrass. Calzone assess her golf status has made "her one of the most decorated high school golfers in county history and by far the schools best ever."