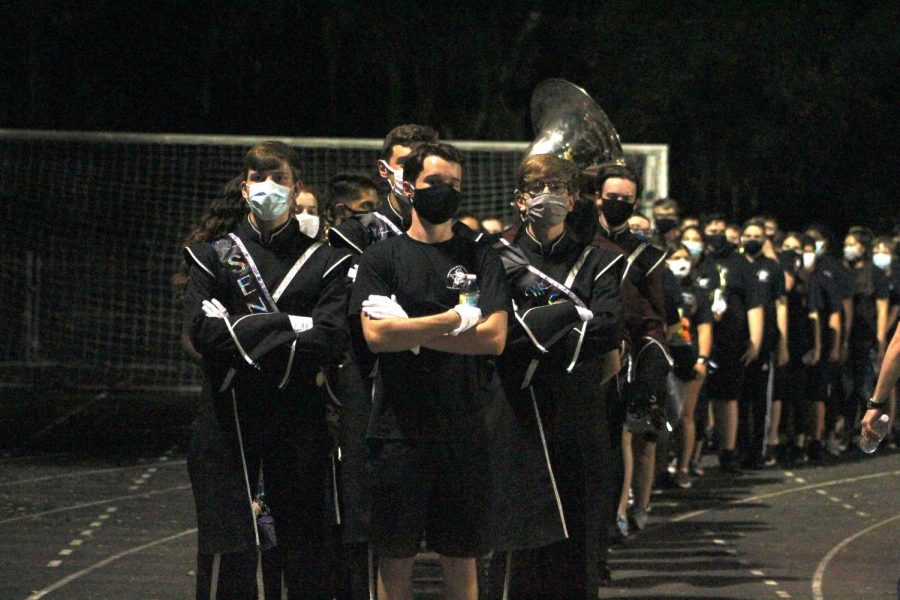 Sydney Gordon
Due to the Coronavirus, the Wiregrass Ranch band has had to implement safety regulations to protect its students and staff. Some of these regulations include the use of face masks and coverings on the ends of their instruments.
"Playing with masks and bell covers hasn't affected my playing ability. I can still play my instrument with little-to-no resistance, and the mask has a hole cut wide enough to comfortably play my instrument while also keeping me safe," junior clarinetist Kaley Lewis said. "The mask and bell covers do not bother me." 
To reduce the risk of infection, not only has the way students play their instruments changed, but also the way the band has to practice. The practices have changed drastically from last year to make sure the virus doesn't spread.
"It's quite different,"marching band director Joshua Hobbs said on the new practice schedule. "Normally our marching band is rehearsing three times a week for games on Fridays and competitions on Saturdays. Covid has wiped out the competitive marching band circuits this year and instead of practicing like last year, we rehearse once a week and only perform at home football games."
Due to Covid-19 shutting down the competitive marching band circuit, the marching band isn't allowed to defend their state title this year or participate in Bands of America. Despite missing the competitive season, the band was able to perform their winter concert this past Friday on the football field.
"There's definitely some challenges and even though we can't compete at our normal competitions, we're trying to make the most of it and enjoy the year," senior french hornist Alex Kopp said.